58 Point Margin of Victory Has Been Achieved Twice
Published on June 14th, 2021 1:09 pm EST
Written By:
Dave Manuel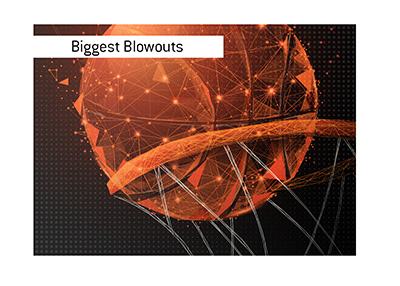 There have been multiple NBA playoff games that have ended with a margin of victory for one side of more than 50 points.
The record, however, is 58 points, and this has been achieved twice - once in 2009 and once in 1956.
Let's start with the 1956 game between the Minneapolis Lakers and the St. Louis Hawks.
If I told you that the Lakers had beaten the Hawks by 58 points in one of the games in a best-of-3 series, who do you think would have won the series?
On March 19th, 1956, the Lakers defeated the Hawks 133-75 to equalize the best-of-3 series at 1.
The Hawks would then go on to win the third and deciding game of the series, 116-115.
The Hawks certainly weren't a bad team - they simply didn't show up that night. They shot .242 from the field and had a laughably low free throw percentage on the night of 62%.
The Hawks were bad for the entirety of the evening, as they were outscored 25-15, 36-15, 36-24 and 36-21 on a quarter-by-quarter basis.
The Lakers, on the other hand, had every member of their active roster put up at least 10 points on the evening.
-
The second NBA playoff game with a margin of victory of 58 points took place on April 27th, 2009.
The two teams were the Denver Nuggets and the New Orleans Hornets, and the Nuggets won the game by a score of 121-63.
The Hornets were even more embarrassed by the fact that this shellacking took place on their home court.
The Nuggets were really good that year, and boasted a lineup that included the likes of Carmelo Anthony, Kenyon Martin and Chauncey Billups.
The Nuggets would have seven players scored at least 10 points that night, led by Carmelo Anthony, who put up 26.
The Hornets had a team that was led by Chris Paul and Tyson Chandler, but they still managed to get destroyed on their home court.
The Hornets shot just .315 from the field and went 2-15 from 3-point land.
The Hornets were absolutely pathetic in this game, as they scored 15 points or less in three of the four quarters.
-
In both of these cases, the losing teams were absolutely horrendous and seemed to have checked out of the game early, for whatever reason.