Some of the UFC's Biggest Fights Have Taken Place Outside of the Octagon
Published on September 9th, 2022 5:20 pm EST
Written By:
Dave Manuel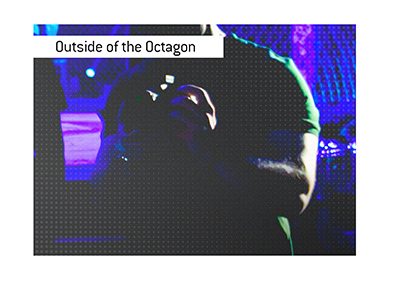 In the run-up to UFC 279 in September of 2022, a large backstage brawl took place that involved Kevin Holland, Khamzat Chimaev and the Diaz brothers.
According to UFC President Dana White, the fighters were all too close to each other and there wasn't nearly enough security, and things quickly got heated.
In the lead-up to an event, fighters are usually dehydrated and hungry, and things can escalate quickly.
That brawl was eventually contained and the damage was limited.
What other backstage or press conference brawls have taken place in the history of the UFC?
Here are the five biggest:
1. Conor McGregor vs the Bus.
Conor McGregor and Khabib Nurmagomedov had a heated rivalry, but things really boiled over prior to UFC 223.
Khabib was in New York to fight Al Iaquinta for the vacant Lightweight title.
Prior to the event taking place, Khabib and his team accosted Artem Lobov (friend of Conor McGregor who was also fighting at UFC 223), with Khabib reportedly slapping Artem in the face.
Conor McGregor heard about this and immediately flew out to New York from Ireland with dozens of his crew.
Conor McGregor and his crew would end up attacking the bus that held Khabib and a number of other fighters, leading to the infamous "dolly incident", when McGregor threw a dolly through the bus window.
Chaos ensued, windows were shattered, people were hurt, fights were called off and McGregor was arrested.
2. "Three Piece and a Soda".
In 2019, after knocking out Darren Till in the main event of a UFC Fight Night card in London, Jorge Masvidal made a beeline towards Leon Edwards while Masvidal was in the middle of an interview.
The two fighters, who had both fought on the card, exchanged words as Masvidal drew closer.
Suddenly, Masvidal hit Edwards with the "three piece and a soda" - a number of punches to Edwards' face that resulted in a cut over Edwards' left eye.
The fight was quickly broken up. No charges were pressed, and neither fighter was suspended.
To this day, Masvidal and Edwards have never stepped into the Octagon with each other, despite being in the same division.
3. Jon Jones vs Daniel Cormier.
In a press conference for their first fight (which would ultimately be rescheduled), Jon Jones and Daniel Cormier got into an altercation that saw Jones throw a punch and the press conference quickly descend into chaos.
When it was time to square off, Jones stuck his forehead into the forehead of Cormier, which resulted in Cormier pushing Jones away. Jones retaliated with a punch, and the two men quickly wrestled each other offstage, while dozens of security intervened.
The funny thing about the incident is that Conor McGregor was also there (to promote his fight against Dustin Poirier), and took selfies of himself while the chaos was taking place.
The bitter rivalry between Jones and Cormier is ongoing to this day.
4. Wanderlei Silva vs Chael Sonnen.
"I can't let you get close to me."
While acting as coaches for the Ultimate Fighter: Brazil, Chael Sonnen and Wanderlei Silva got into a physical altercation.
Silva was enraged by what Sonnen had said about Brazil and Brazilian fighters in the past, and was clearly looking for a fight.
Sonnen tried his best to de-escalate things, but the two ended up fighting anyways.
In the end, the two basically wrestled, with no heavy damage being done by either side.
The funny thing is that many Brazilian fans didn't like Silva's aggressive nature towards Sonnen, and Sonnen ended up winning some fans in the country as a result.
5. Nick Diaz vs Joe Riggs: The "Hospital Brawl"
After Joe Riggs defeated Nick Diaz at UFC 57, the two men both went to the hospital after a hard fight.
In most cases, fighters are respectful to each other after they fight, though these two were in no mood for that.
After being transported to the hospital in the same ambulance, Diaz and Riggs ended up brawling at the hospital.
This was a brawl that only a few people happened to see (hospital employees mostly), though it definitely happened.
-
As mentioned, Masvidal vs Edwards is the only unresolved fight out of them all.