Tyreek Hill, Russell Wilson, Davante Adams Have All Been Traded
Published on March 25th, 2022 4:18 am EST
Written By:
Dave Manuel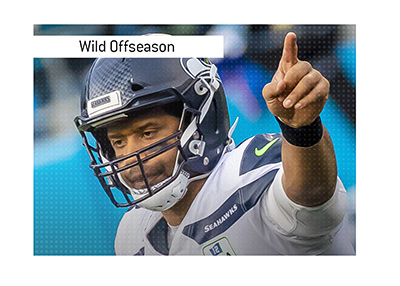 Tyreek Hill.
Russell Wilson.
Davante Adams.
All superstar players who have all been traded over the past couple of weeks in the NFL.
In the past, trades of superstar players in the NFL would be made very infrequently.
If you had a superstar, you kept them.
In this day and age, no player seems safe from a trade. Tyreek Hill, Russell Wilson and Davante Adams are all bonafide superstars, and all three players found new teams this offseason.
What is going on?
Why have there been so many big trades as of late?
There are a number of possible reasons for this phenomenon:
1. Increased Player Power.
Players have much more power than they used to, and they realize this.
If a player isn't happy in a current situation, they can life miserable for their teams.
If you are looking to win a Super Bowl, you are almost certainly not going to win with an unhappy superstar.
Players and their agents realize that they have more and more leverage in this age of massive contracts and social media, and they are using this power more and more.
2. Larger contracts Make Players Easier To Say Goodbye To.
Let's look at the case of Tyreek Hill.
Tyreek Hill, who is 28 years of age, wanted a new contract from the Kansas City Chiefs that would make him the highest paid players in the NFL.
That ended up clocking in at around $30 million a year.
The Chiefs, with one of the best front offices in football, didn't want to pay it.
So, Kansas City decides that they can get a bunch of draft picks to rebuild their team while also saving $30 million in salary cap space.
Tyreek is obviously a great player, but multiple draft picks and $30 million in cap space are great assets as well.
Great players on cheap contracts are worth much more than great players on massive contracts, so trading Tyreek ended up being an easy decision for the Chiefs.
3. FOMO.
"FOMO" stands for Fear of Missing Out.
One team makes a big move (Denver Broncos trading for Russell Wilson) and suddenly practically every other team feels like they need to do a big move as well, just to keep up.
There are almost 10 legitimate Super Bowl contenders in the AFC alone, and teams are all loading up their weapons to have a legitimate shot at the title.
This has resulted in some massive trades from the likes of the Denver Broncos, Las Vegas Raiders and Cleveland Browns, just to name a few.
4. Salary Cap.
The salary cap is set to skyrocket over the next 5 years. Everybody knows that.
Trading for a player like Tyreek Hill and giving him a massive deal is much easier when you know that the salary cap is going to rise for $20 million a year for the foreseeable future, mainly thanks to a new TV deal.
-
This has been one of the wildest offseasons in a long while, and there is no reason to think that next season will be any different.