1983 Draft Class Leads The Way - But It's Close
Published on May 6th, 2022 1:38 pm EST
Written By:
Dave Manuel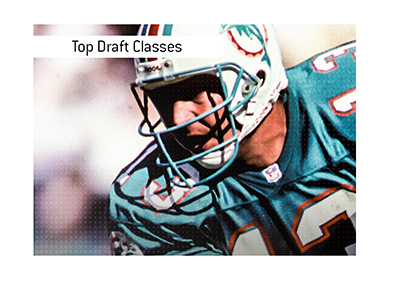 There have been some exceptional NFL draft classes over the years, but three classes - 1983, 1981 and 1957 - stand heads and shoulders above the rest.
-
The 1983 draft class is considered by many to be the greatest of all time, though you can make compelling arguments for the 1981 and 1975 draft classes as well. All three classes had at least half a dozen Hall of Famers, and all three classes produced some of the greatest NFL players of all time.
Let's start with the top class on our list:
1.
1983.
This class produced a total of EIGHT Hall of Famers:
Dan Marino
Jim Kelly
John Elway
Eric Dickerson
Bruce Matthews
Darrell Green
Richard Dent
Jim Covert
This class had a bit of everything - some of the greatest QBs of all time, two of the greatest offensive tackles of all time and one of the greatest defensive ends of all time, just to name a few.
2.
1981.
Easily the best DEFENSIVE class of all time.
Another 8 Hall of Famers were minted from this class, including:
Lawrence Taylor
Kenny Easley
Ronnie Lott
Mike Singletary
Howie Long
Rickey Jackson
Russ Grimm
Sam Mills
This is an incredible defensive draft class - Lawrence Taylor and Ronnie Lott especially stand out, as they are two of the greatest of all time at their respective positions.
3.
1957.
This class produced the most Hall of Famers, as 9 members of the class were inducted into the Hall of Fame:
Jim Brown
Jim Parker
Paul Hornung
Len Dawson
Tommy McDonald
Sonny Jurgensen
Henry Jordan
Gene Hickerson
Don Maynard
-
Even though 1957 produced the most Hall of Famers, I think that the quarterbacks of the 1983 class and the defensive talent of the 1981 class put them clearly on top.