Tom Brady, Bo Jackson Were Both Late Round Legends
Published on May 3rd, 2021 12:19 am EST
Written By:
Dave Manuel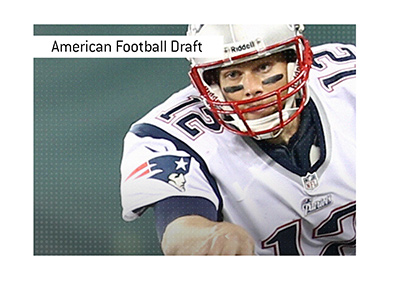 The greatest football player of all time (and that is Tom Brady, without doubt) was drafted in the 6th round of the 2000 NFL Draft.
The greatest football player of all time was the 199th pick in the NFL Draft.
Let that sink in for a second.
Not only did every single team in the NFL have the opportunity to draft Tom Brady, they had the opportunity to draft him over multiple rounds.
At the time, the New England Patriots simply drafted Tom Brady for some quarterback depth - they had no intention of Brady becoming the starter for the team.
Don't forget - in March of 2001, the Patriots signed Drew Bledsoe to the largest deal in the history of the NFL (at the time) - a 10-year, $103 million monster of a contract that all but guaranteed that Bledsoe would play with the Patriots until he retired.
The universe had other plans, however, as Bledsoe suffered a near-fatal injury early into the 2001 season, which led to Brady taking over. Brady would compile a 11-3 record as a starter, and would eventually lead the Patriots to a Super Bowl victory.
Tom Brady quickly became a legend, and Bledsoe would move on to the Buffalo Bills.
With his 7 Super Bowl rings and 5 Super Bowl MVP awards, Tom Brady is clearly the best late-round pick of all time.
-
It's almost impossible to do an article like this without mentioning Bo Jackson, quite possibly the greatest athlete that the NFL has ever seen.
Bo Jackson was taken in the 7th round of the 1987 NFL Draft (183rd overall) by the Los Angeles Raiders.
This came one year after the Tampa Bay Buccaneers drafted Bo Jackson #1 overall in the draft, only for Jackson to refuse to sign with the team. The Bucs would forfeit their rights to Jackson before the 1987 NFL Draft.
At the 1987 Draft, the Raiders decided to burn a late pick on Jackson, hoping that they could convince him to play football. Bo Jackson was playing professional baseball for the Kansas City Royals, and emphatically stated that he had no interest in playing in the NFL.
The Raiders managed to persuade Jackson to play football, however, as they negotiated a healthy contract that included the stipulation that Jackson could finish his baseball season in full every year and then join the Raiders a little less than halfway through the season.
Jackson's NFL career would be cut short due to a hip injury.
In just 38 games (a little more than two full seasons), Jackson would rush for 2,782 yards and find the endzone 18 times.
-
Tom Brady is clearly the best late-round pick of all time, though Bo Jackson is certainly worthy of a mention.