Brett Hull, Luc Robitaille Top List
Published on November 10th, 2021 12:37 pm EST
Written By:
Dave Manuel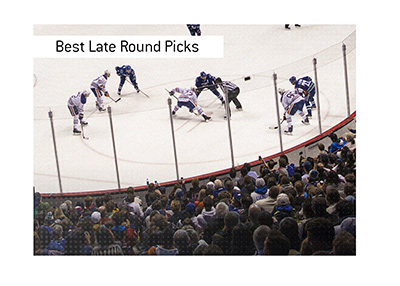 The vast majority of the late-round picks in the NHL end up not playing in the league. There are just too many players and not enough open spots to go around.
Once in a while, however, a diamond in the rough emerges in the late rounds of the draft.
In most cases, these late-round picks fall so low because of some worry that ends up being a non-issue. Maybe their skating is seen as being sub-par, or maybe they are playing outside of North America and there are concerns about whether or not they will end up even coming to the NHL.
With that being said, here are the very best late-round picks of all time in the NHL:
1. Brett Hull.
It's hard to believe that Brett Hull was drafted 117th overall.
After all, Hull would end up with 741 total goals over the course of his career, and had three seasons where he scored at least 70 goals.
Hull won two Stanley Cups and entered the Hall of Fame in 2009.
2. Doug Gilmour.
Gilmour, despite having a great junior career, was selected 134th overall.
Gilmour would finish his career with 1,414 points and would be inducted into the Hall of Fame in 2011.
Gilmour continues to be a hero in Toronto, as he led the team to the Stanley Cup Finals in the early '90s.
3. Pavel Datsyuk.
Datsyuk was drafted 171st overall and was a key component of the Detroit Red Wings' Stanley Cup teams.
Datsyuk was not seen as being an elite NHL prospect, though the Red Wings decided to draft and develop him, and the move turned out to be a great one, as Datsyuk would becom an elite two-way player.
4. Luc Robitaille.
Robitaille would be drafted with the 171st overall pick in 1984, despite scoring 148 points in his final year in junior.
There were concerns over Luc's skating, which is why he dropped so far in the draft, though those fears would prove to be unfounded.
Robitaille would make 13 All-Star teams and score 40 goals or more a total of five times.
5. Pavel Bure.
Pavel Bure would be selected #113th overall in the 1989 NHL Draft.
Bure would go on to become one of the most prolific scorers of all time, as he topped 50 goals in a season five times in his career.
Bure's career was cut short by injury, though he still left his mark on the NHL, and he remains one of the most popular players in the history of the Vancouver Canucks.
6. Theoren Fleury.
There were concerns over Fleury's size, which was why he was taken 166th overall in the 1987 NHL draft.
Fleury would end up notching over 1,000 points over the course of his career, and would win the Stanley Cup and Olympic Gold Medal.