Marshawn Lynch's 67-Yard Run Will Live on Forever
Published on July 20th, 2022 1:42 pm EST
Written By:
Dave Manuel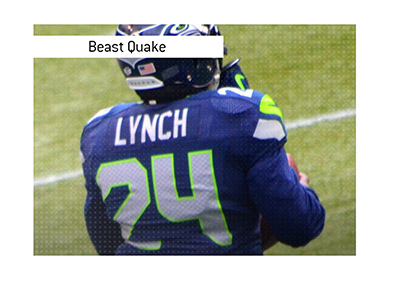 It was 2010 and the Seattle Seahawks were hosting the New Orleans Saints in a NFC Wild Card playoff game.
In 2010, the New Orleans Saints were very good, as they entered the playoffs with a record of 11-5.
The Seahawks, however, played in a terrible division, and ended up winning the NFC West with a record of 7-9, making them the only team to ever make the playoffs with a losing record through a full season.
The Saints were big favorites (10 points), while the Seahawks had nothing to lose.
-
The Seahawks were acquitting themselves very well, as they held a 34-30 lead in the fourth quarter when the "Beast Quake" happened.
The Seahawks had the ball on their own 33 yard line, and it was second and 10, when Matt Hasselbeck handed the ball off to Marshawn Lynch.
The play was "17 Power" - a power run given to Marshawn Lynch.
Marshawn Lynch exploded down the field, bouncing Saints defenders off of him like it was nothing.
Lynch would break a total of 9 tackles as he stampeded down the field.
Tracy Porter caught up to Lynch and attempted to take him down, though Lynch would stiff arm him into the sidelines.
As Lynch approached the endzone, he leapt backwards, grabbing his crotch as he did so.
In total, it was a 67-yard touchdown run for Lynch, and the Seahawks had a 10 point lead.
The Seahawks would go on to win the game 41-36.
-
The run earned the name "Beast Quake" as a seismic monitoring station about 100 yards west of the stadium actually registered seismic activity during the run.
During a 30-second period of time between when Lynch was breaking free of the line of scrimmage and then celebrating with his teammates, the seismic monitor registered constant activity, due to the fans in Seattle screaming and jumping up and down.
The run is forever known as the "Beast Quake".