Barry Sanders Was Arguably The Best Running Back of All Time
Published on September 9th, 2022 1:52 am EST
Written By:
Dave Manuel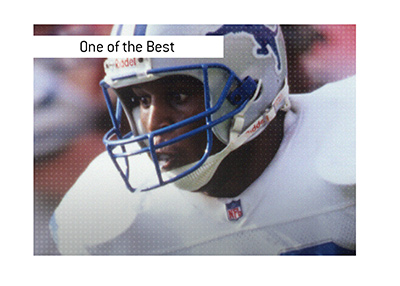 After the end of the 1998 season, while seemingly still at the height of his powers, Barry Sanders decided to call an abrupt end to his Hall of Fame career.
Sanders was healthy and still producing at an elite level when he retired at the age of 30. The reason? He was tired of losing.
If he had decided to keep playing, Sanders almost certainly would have broken the all-time rushing yards record.
But, just like with his running style, Sanders zagged and faked out everybody.
-
Sanders is arguably the greatest running back of all time, and here are 7 statistics that help make the case:
1. 99.8 Yards Per Game Average on the Ground.
Only one player in the history of the NFL - Jim Brown - averaged more yards per game over the course of his career.
To put this into some perspective - Barry Sanders averaged 11+ yards per game more than Walter Payton over the course of his career.
2. 2,053 Rushing Yards in a Season - at the Age of 29.
If you are drafting your fantasy football team, you are likely staying away from 29 year-old running backs.
In the 1997 season, however, Barry Sanders turned in the best season of his career, rushing for 2,053 yards and adding another 305 receiving yards.
There are only three running backs - Eric Dickerson, Adrian Peterson and Jamal Lewis - who have rushed for more yards in a single season than Barry Sanders. Two of those running backs were 24 at the time, while the other was 27. Incredible.
3. Barry Sanders' Never Rushed for Less than 1,100 Yards in a Season.
In 1993, Sanders battled injuries and played in 11 games.
Despite his limited time on the field, Sanders still rushed for 1,115 yards, which most would consider a great year over a full season.
Barry Sanders was different.
4. 15,269 Rushing Yards Despite Retiring at 30.
Barry Sanders finished his career fourth on the all-time rushing yards list, despite playing in just 153 games.
Again - if Sanders had played just a few more years, he would have almost certainly broken the all-time rushing yards mark.
5. 1,491 Rushing Yards in His Last Season.
At some point in his last season, Barry Sanders decided that he was done with football.
In fact, he said that he wept on the bench during his last game, as he knew what nobody else knew - he was retiring.
Despite not having his heart in the game anymore, and despite being 30 years of age, Sanders still rushed for an incredible 1,491 yards during the 1998 season.
Incredible.
6. 1,500+ Rushing Yards in 4 Consecutive Seasons.
From 1994-1997, Barry Sanders was practically unstoppable, as he rushed for 1,500+ yards each year.
In fact, he came just 9 yards short of making it 5 consecutive seasons, though he finished with 1,491 yards in 1998.
In 1994, Sanders rushed for 1,883 yards, and in 1997, he rushed for 2,053 yards.
7. Rushed for 100+ Yards in 14 Consecutive Games.
Barry Sanders was unbelievably consistent over the course of his career, and this statistic helps to illustrate that.
Sanders never took games off and rarely turned in poor games, despite being on some pretty bad teams.
-
Barry Sanders was different, and Barry Sanders is easily one of the best running backs of all time.