Barry Sanders Was Sick of Losing
Published on October 8th, 2023 4:45 pm EST
Written By:
Dave Manuel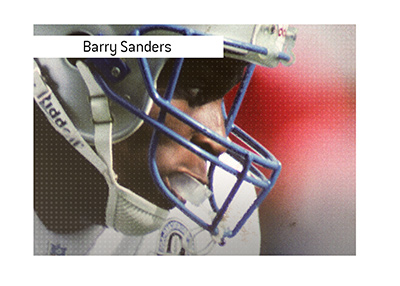 In 1997, Barry Sanders posted the best statistical season of his career, rushing for 2,053 yards and 11 touchdowns.
In 1998, Sanders posted another very good season, rushing for 1,491 yards and 4 touchdowns.
Following the 1998 season, Barry Sanders shocked the NFL by retiring.
-
The retirement came as such a shock due to a number of reasons:
1) Sanders was clearly still one of the best running backs in the league
2) Sanders was still relatively young
3) It was assumed that Sanders would stay in the game long enough to break the all-time rushing yards mark
-
When Sanders retired, he didn't elaborate on his reasons for leaving the game at such an early age.
The statement was terse and didn't include a "thank you" to the Lions organization.
There was clearly some bad blood, though Sanders wouldn't elaborate on his reasons for leaving for a number of years.
-
In his book "Now You See Him: His Story in His Own Words" (released in 2003), Sanders said that losing was ultimately the reason why he decided to walk away early.
In his final seasons with the team, the Lions went 5-11, 9-7 and 5-11.
Sanders felt disappointed with the franchise, as good players were being traded away and let go, and the team was not performing well as a result.
Sanders questioned why he should put so much of himself into his offseason preparation, when the team was clearly fine with being mediocre.
Sanders decided before the end of his last season that he had had enough, which is why he was crying on the sidelines during one of his last games.
-
Sanders also said that he decided that records weren't all that important to him, and that continuing to play while he was unhappy with the state of the team, strictly to chase records, wasn't that smart.
In the end, consistent losing by the Lions ended up forcing Barry Sanders out of the game early.
Sanders, for his part, doesn't seem to have any regrets about his decision.