Barry and Byron Sanders Tore Up College Football in 1988
Published on August 25th, 2023 7:11 pm EST
Written By:
Dave Manuel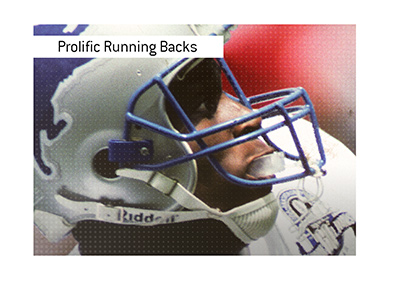 Did you know that Barry Sanders had a brother who was also a prolific running back?
In 1988, Barry Sanders and his brother, Byron Sanders, tore up college football.
In fact, the two brothers set the record for most ever yards gained by a pair of brothers in a single college football season.
-
In 1988, Barry Sanders won the Heisman Trophy, turning in arguably the greatest season by a running back in college football history.
Barry Sanders rushed for 2,628 yards and 37 touchdowns in 1988. Sanders was absolutely unstoppable, averaging 7.6 yards per carry on the season.
Byron Sanders, who played for Northwestern, broke the 1,000 rushing yard mark as well that year, rushing for a total of 1,062 yards.
In total, the two brothers combined for 3,690 total rushing yards in 1988, which is an absolutely ridiculous figure.
-
Both of the Sanders brothers were largely motivated by their father, who was not shy about giving them a hard time to push them to the next level.
In fact, even after his ridiculous season in 1988, Barry Sanders did not want to enter the NFL, and was convinced to do so by his father.
-
Barry Sanders would go on to have a lengthy career in the NFL, establishing himself as one of the greatest running backs to have ever lived.
Byron Sanders, on the other hand, was drafted in the 9th round of the 1989 NFL Draft by the Chicago Bears, though never managed to make the NFL.