Army Managed To Lose 13 Games During 2003 Season
Published on October 28th, 2023 2:01 pm EST
Written By:
Dave Manuel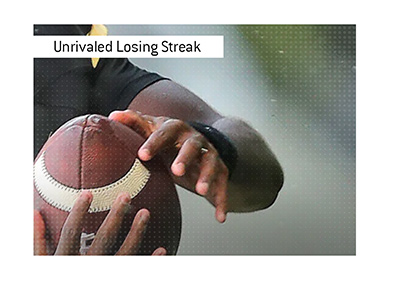 The 2003 Army football program managed to do something that NO other team has accomplished in the modern era of college football:
They lost 13 games in a single season.
There have been plenty of winless seasons since 2003, and there have been plenty of teams that have lost 12 games over the course of a single season.
13 losses in a single season, however, is a record that continues to be held to Army to this day.
-
Army was so bad in 2003 that they fired their coach, John Mumford, halfway through the season, which is quite rare in college football.
The firing came after a particularly embarrassing loss to East Carolina, which had a record of 0-6 at the time.
The new coach, Todd Berry, didn't have any more luck, as he finished the season with a record of 0-6.
-
Army's 2003 campaign started with four straight home games, and all of these games resulted in losses to unranked teams (Connecticut, Rutgers, Tulane and South Florida).
After getting blanked 27-0 against their only ranked opponent of the season (TCU), Army laid another egg against East Carolina, which resulted in Mumford getting the axe.
After a close loss to Cincinnati in Berry's first game as head coach, Army packed it in for the season, getting destroyed by UAB, Air Force, Houston, Hawaii and Navy.
-
The Army-Navy game on December 6th, 2003 was particularly embarrassing for Army, as they got destroyed (34-6) while gaining the dubious "honor" of becoming the first 13 loss team in the modern era of college football.
-
The program remained in tatters until 2010, when Army finally managed to put together a winning season.