Only One Player Has Ever Won The Heisman Trophy Twice
Published on December 11th, 2022 2:22 pm EST
Written By:
Dave Manuel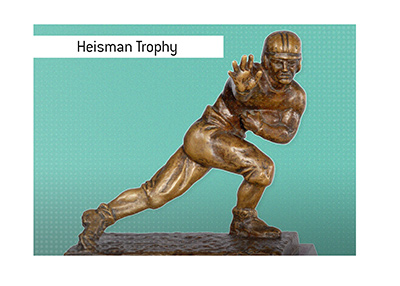 Many, many great players have won the Heisman Trophy.
Barry Sanders. Joe Burrow. Bo Jackson. The list goes on and on.
In the history of the award, however, only ONE player has won the award twice - Archie Griffin (1974, 1975).
-
Archie Griffin, who played for Ohio State from 1972-1975, is considered one of the best college football players of all time.
Griffin, a running back, put up some very impressive stats in his freshman year at Ohio State, running for 867 yards and 3 touchdowns on just 159 carries.
Over the next three years, Griffin would put up the following numbers:
1973 - 247 rushes, 1,577 yards, 7 touchdowns
1974 - 256 rushes, 1,695 yards, 12 touchdowns
1975 - 262 rushes, 1,450 yards, 4 touchdowns
In fact, Griffin had a case for THREE Heisman Trophies, as his sophomore season put him in contention as well.
-
It's pretty rare that a player will ever be in contention to win a second Heisman Trophy award.
The reason?
Most players win the award in either their junior or senior years, and often these players will immediately declare their eligibility for the NFL draft.
Griffin was an outlier, in that he won his first Heisman as a junior, and then elected to return for his senior year.
Caleb Williams will be in contention to win the Heisman for a second time, as he managed to win the award as a sophomore at USC, and is currently ineligible for the NFL Draft.
-
A number of players were in strong contention to win two Heisman Trophies and ended up falling short.
A list of these players includes:
Tim Tebow
O.J. Simpson
Herschel Walker
Glenn Davis
Clinton Frank