Andrew Luck Eligible for Induction Into PFHoF in 2024
Published on February 11th, 2023 5:12 pm EST
Written By:
Dave Manuel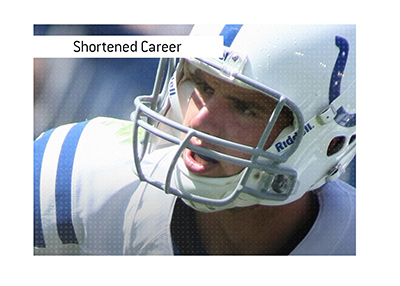 The last time that we saw former Indianapolis Colts QB Andrew Luck on a football field, he was taking in boos from his "hometown" fans after announcing his shocking retirement.
Luck, who had battled injuries for years, announced that he had had enough, and that he wasn't going to be putting himself through the grueling process of constantly rehabbing injuries anymore.
Luck, who at one time seemed on track to become one of the top 10 quarterbacks of all time, was gone from the league.
-
In 2024, Andrew Luck will be eligible for induction into the Pro Football Hall of Fame.
Debate has been raging over the past couple of days - does Luck deserve to be admitted with the likes of Joe Montana, Reggie White and Jerry Rice, to name a few?
The general consensus is that while Andrew Luck was a Hall of Fame talent, his career simply wasn't long enough to earn admittance into football's hallowed grounds.
-
The biggest point against Andrew Luck is that he only played
86
games over the course of his career.
Compare this to somebody like Joe Montana, who played 192 games, or Tom Brady, who played 335.
Andrew Luck's resume simply wasn't long enough.
-
Over his shortened career, Luck threw for 23,671 yards, 171 touchdowns and 83 interceptions.
Luck's best season came in 2014, when he threw for 4,761 yards and 40 touchdowns.
Luck had four seasons with over 4,000 passing yards, and three seasons with over 30 passing touchdowns.
-
Another point that damages Luck's case for the Hall of Fame - lack of accolades and results.
The Colts didn't make the Super Bowl when Luck was behind center - in fact, the team won just four playoff games while Luck was their quarterback.
Luck threw 12 touchdowns in the playoffs over the course of his career, while also tossing 13 interceptions.
During his time in the league, Luck didn't win MVP and he was never named an All-Pro quarterback.
Compare this to a quarterback like Peyton Manning, who was named first-team All-Pro seven times and MVP of the league five times.
-
The fact of the matter is that Luck's career simply wasn't long enough to earn induction into the Pro Football Hall of Fame, and he didn't achieve enough personal and team success to warrant consideration.
If the likes of Ken Anderson, Randall Cunningham and Boomer Esiason aren't in the Hall of Fame, it's hard to make a compelling case for Andrew Luck.