Andre Ware Was Pulled After First Half - With Six Passing Touchdowns
Published on August 19th, 2023 3:50 pm EST
Written By:
Dave Manuel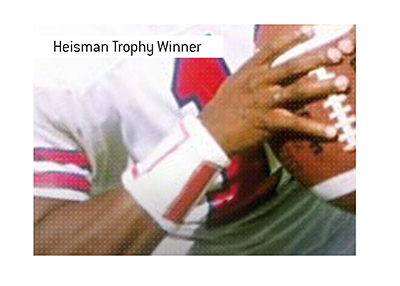 In October of 1989, Andre Ware had one of the games of his life.
Andre Ware would pass for 517 yards and six touchdowns, which is obviously a phenomenal achievement.
The crazy part?
Andre Ware was pulled at halftime of the game.
-
Houston had a very good team in 1989, led by quarterback Andre Ware, who would end up winning the Heisman Trophy award that year.
SMU, on the other hand, was not very good at all. SMU had been inactive as a football program for the previous two years, due to NCAA probation, and they were clearly not up to the task of dealing with a very good Houston team.
Andre Ware went 25-41 in the first half with 6 TDs and 1 interception. Ware would have 517 passing yards in the half, which would easily eclipse the record for most passing yards in a half in a college football game.
Ware would go wild in the second quarter, passing for 340 yards and 5 touchdowns. These marks would also go into the record books.
-
Houston was up 59-14 at the half, and their head coach decided to pull the team's starters.
Despite this, Houston still managed to put up 36 more points. In fact, Houston had the opportunity to put up over 100 points in the game, as they were marching down the field at the end of the game.
Mercifully, Houston decided to just run out the clock instead.
-
As a team, Houston would break the record for most total offense in a single college football game, as they finished with 1,021 yards of total offense.
A truly impressive performance for Houston and Andre Ware, who would go on to play in the NFL for six years.