Numbers Continue To Balloon as More Legal Options Surface
Published on September 4th, 2019 3:08 pm EST
Written By:
Dave Manuel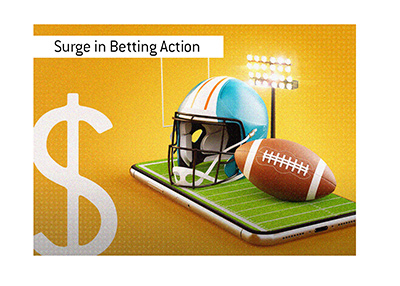 According to a survey that was conducted by the American Gaming Association (AGA) and posted by ESPN (link below), a full 15% of all American adults - 38 million people in total - will bet on the NFL this season.
That includes anybody that is placing a wager at a sports book (live or online), joining a paid office pool or entering a paid fantasy football league.
The AGA notes that 7 million Americans - up over 20% from last season - will place a wager with a casino sports book this season.
According to the AGA, more than $150 billion will be bet on sports in the United States this season, with much of it going towards unregulated local "bookmakers and offshore sportsbooks".
This trend is going to shift in the coming years, however, as more states legalize sports betting and more legal betting options surface, both at brick-and-mortar casinos and online.
New Jersey has been a particular hotbed for betting so far, as they were one of the first states to offer sports betting in the wake of the 2018 Supreme Court decision that allowed states to set their own rules for the offering of sports betting. Things have grown so rapidly in New Jersey, in fact, that they have a real chance of supplanting Nevada as the center of the US gambling universe sometime in the future.
-
As mentioned, things changed dramatically in the United States following the passage of a Supreme Court decision that overturned the long-standing prohibition of sports betting in the country (except for Nevada). In addition, fantasy football and daily fantasy football have both surged in popularity in recent years, and this has contributed to the sky-rocketing betting numbers in the United States as well.
All of the four major professional sports leagues in the United States and Canada have jumped on the betting train in recent years, as all of these leagues identity sports betting as an important new source of revenue. It has been proven that legalized sports betting results in new revenue streams and higher TV ratings (as people will watch games that they have bet money on), and this is music to the ears of the sports leagues that are always looking for new sources of revenue.
The cat is out of the bag when it comes to sports betting in the United States, and I would expect this upwards trend to continue far into the future.
Source: ESPN.com -
Survey: 15% of American adults to bet on NFL