Bookmakers Put Likelihood at Even Money
Published on October 21st, 2020 3:14 pm EST
Written By:
Dave Manuel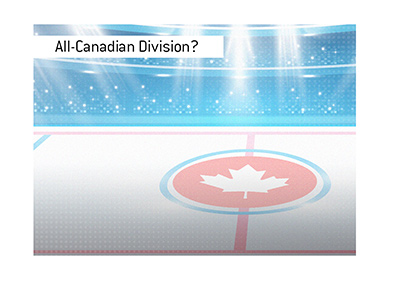 Will there be an all-Canadian division in the NHL for the 2020-21 regular season?
Oddsmakers seem to believe that there is a very good possibility of this happening.
The reasoning would be simple. With border crossings between the United States and Canada still not taking place, the NHL may decide to have an All-Canadian division. Canadian teams would play in Canada for the regular season, while the United States based teams would stay in the States.
This would create a division of:
Vancouver
Calgary
Edmonton
Winnipeg
Toronto
Montreal
Ottawa
If you think that there is zero likelihood of this taking place - the oddsmakers would strongly disagree with you.
Here are the current betting odds for this to take place, courtesy of a major offshore sports book:
Will There Be an All-Canadian Division Next NHL Season?

Yes, +100
No, -140
Based on these odds, the "Yes" is a coin flip, with the "No" is a slight favourite.
-
This sounds like a fun idea, especially for fans of Canadian hockey teams.
Are there enough teams, however, to pull this off?
If the NHL plans on having a full regular season, an All-Canadian division might get a bit tedious - after all, it would mean that teams would play each other roughly 13 times over the course of the year.
There might not be another solution, however, if the Coronavirus continues to wreak havoc throughout the world. Players don't seem agreeable to another bubble, which means that two massive geographic bubbles might end up taking place, with the hope that a vaccine is available when playoffs start in the spring.