Alex Groza Was Banned For Life in 1951
Published on July 7th, 2023 2:54 pm EST
Written By:
Dave Manuel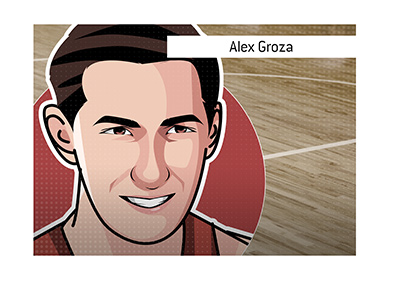 Imagine a scenario like this taking place in the modern NBA.
A much-hyped #2 overall draft pick lives up to the hype and immediately becomes one of the best players in the league, making the All-NBA First Team in each of his first two seasons in the league.
This player wins the Rookie of the Year award and averages 22/10 through the first two years of his career.
After these two seasons, the player is banned from the NBA for life.
This is the story of Alex Groza.
-
Alex Groza had one of the most decorated careers in the history of college basketball.
Groza was the center on Kentucky from 1945-1949, and led the team to two straight titles in 1948 and 1949.
Groza, who was the captain of the team that would become known as the "Fabulous Five", was a 3-time All-American, 3-time All-SEC and 2-time Final Four Most Outstanding Player.
On top of all of that, Groza also win a gold medal with the 1948 Olympic basketball team.
It's no surprise that Groza was the #2 overall pick in the 1949 NBA Draft.
-
Groza dominated in his first two seasons with the Indianapolis Olympians, averaging 23.4 PPG and 21.7 PPG respectively.
Groza also averaged well over 10 rebounds per game.
Then, in a blink of an eye, Groza's NBA career was over.
-
In the early 1950s, a scandal erupted that shook college basketball to its core - the CCNY point-shaving scandal.
The unravelling of the scandal started when somebody offered Junius Kellogg $1,000 to shave points in an upcoming game against DePaul.
Kellogg, despite working at a minimum wage job, refused the bribe and went to his coach.
Law enforcement became involved, and eventually a massive point-shaving scandal came to light.
32 players from seven different colleges were found to have accepted bribes, and one of those players was Alex Groza, who reportedly accepted a bribe of $2,000 to shave points in a game.
-
The NBA cracked down heavily on the players involved, banning everybody who was found to have accepted a bribe from their league for life.
One of those players was Alex Groza, the promising, 2-time 1st Team All-NBA player.
Just like that, Groza was gone, never to return. No leniency. No reinstatement.
Gone for life.