Aaron Rodgers Threw Just 2 Interceptions in 2018
Published on September 22nd, 2023 10:58 am EST
Written By:
Dave Manuel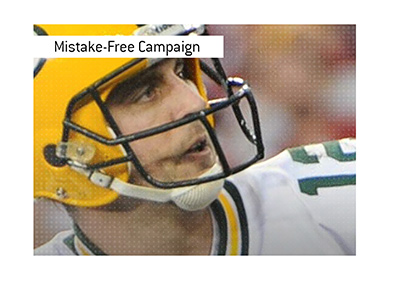 Aaron Rodgers doesn't throw many interceptions.
Over the course of a career that has spanned nearly two decades, Rodgers has thrown just 105 interceptions, which is a ridiculous numbers.
In 2018, Rodgers very nearly went an ENTIRE season without throwing an interception, which would have been one of the craziest feats in the history of all of sports.
-
In 2018, the Green Bay Packers were pretty bad, putting up a record of 6-9-1.
Rodgers, as usual, was phenonemal, putting up 4,442 passing yards, 25 touchdowns and just two interceptions.
Rodgers would play all 16 games of the season.
Rodgers throwing just 2 interceptions over the course of a season is unbelievable.
What's even crazier, however, is that BOTH of his interceptions came as a result of a thrown ball deflecting off of Jimmy Graham's hands and bouncing to a defender.
That's right - both picks were thrown directly into the hands of Rodgers' own player, only for the defense to intercept the ball.
-
In 2018, Rodgers threw interceptions on just 0.3% of his passes, despite the Packers posting a record of 6-9-1.
And both of these interceptions couldn't be blamed on Rodgers, as both were well-thrown balls that simply bounced off the hands of Jimmy Graham.
-
There has been nothing like it in the modern era of football, as Rodgers essentially played mistake-free football for an entire season in 2018.
Other players have come close - Tom Brady threw just 2 interceptions in 12 games in 2016 - though Rodgers' 2018 mistake-free campaign will likely never be topped.