Vendor Arrested After Attempting To Charge Dolphins' Fan $724 For Two Beers
Published on October 1st, 2019 4:51 pm EST
Written By:
Dave Manuel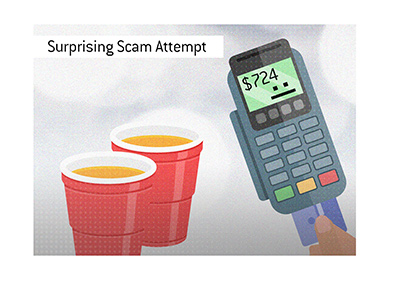 As if Miami Dolphins' fans don't have enough to be down about these days, now they have to worry about potentially falling victim to a beer-selling scam when they go to the game.
A Dolphins' fans was enjoying another losing effort by his team and thought that he would wash away his sadness with a couple of ice-cold beers. He signalled for a beer vendor, who came straight over.
The vendor, 33 year-old Nathaniel Collier, decided that he was going to try to pull a fast one on this unsuspecting fan.
Collier had two card readers on him - one provided to him by his employer, Rocket Man, and the other card reader that was his own, connected to a personal bank account.
Collier decided that he was going to scam the unsuspecting fan by charging him $724 for two beers through his own personal card reader. The transaction went through.
Thankfully we live in a technologically advanced age, and this unsuspecting fan's bank immediately texted him an alert, reporting the details of the transaction.
The kicker? The transaction listed Nathaniel Collier's personal name as the vendor, which made it very easy to figure out what had happened.
-
Collier was almost immediately arrested after his scam was revealed. The customer received a full refund, Collier was fired and booked on charges of grand theft and using a skimming device.
The Dolphins, on the other hand, lost the game and moved to 0-4 on the season.
Source: Miami Herald -
Alcohol isn't cheap at Dolphins games. But $724 for two beers? That's criminal, cops say.