1980-81 Winnipeg Jets Went Over Two Months Without a Single Win
Published on September 30th, 2023 1:09 pm EST
Written By:
Dave Manuel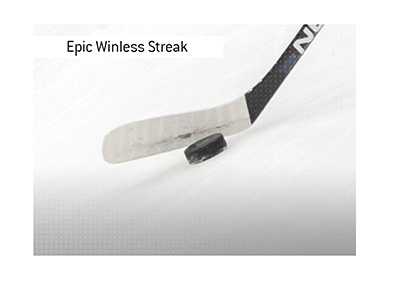 One of the great unbreakable NHL records?
The 30 game winless streak that the Winnipeg Jets put together during the 1980-81 regular season.
Nobody has really come close to even sniffing at this record in the modern era of the NHL, and it's very likely that this record could stand for another 50+ years.
-
The 1980-81 Winnipeg Jets were really, really bad.
The team ended up finishing with a record of 9-57-14, and were consistently destroyed by the likes of the Edmonton Oilers.
The Jets' epic winless streak started on October 19th, 1980, and lasted all the way until December 20th, 1980.
That is over TWO MONTHS of hockey without a single win.
The streak started with a 4-4 tie against the Quebec Nordiques on October 19th, 1980.
There were a number of ties included in the 30 game winless streak, though things accelerated to the downside in the second half of the streak.
In fact, the Jets lost 10 straight games before finally posting a win on December 23rd, 1980.
An early Christmas present.
-
By the time that the streak came to an end, the Jets had a laughably bad record of 2-25-7.
The misery would continue for the Jets - after beating the Rockies on December 23rd, 1980, the team would lost their next three games to the North Stars, Red Wings and Capitals.
The Jets would never recover even slightly - in fact, the team would finish the regular season with another winless streak, this time 8 straight games without a win.
Jets' fans were irate, as the team finished 39 points out of the playoffs.
-
That was the bad news for Winnipeg.
The good news?
The team would parlay their terrible record into future Hall of Famer Dale Hawerchuk, who was taken with the Jets' first overall pick in the 1981 NHL Draft.