Donald Trump, Ron DeSantis Two Favorites To Win
Published on July 13th, 2022 1:21 pm EST
Written By:
Dave Manuel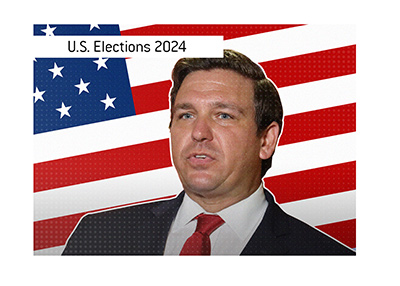 Here's something to remember as sports betting takes over the nation in the United States:
You are not allowed to bet on the Presidential Election if you are a US citizen
With that being said, citizens of OTHER countries are free to bet on the US Presidential election.
Earlier today, DraftKings Ontario released their first odds for the 2024 US Presidential Election.
If you are a Democratic supporter, you might want to look away.
As of this moment, Donald Trump and Ron DeSantis are the two clear favorites to win in 2024, while names like Joe Biden and Kamala Harris lag far behind.
-
Here are the current odds as of July 13th:
Odds To Win 2024 US Presidential Election
Donald Trump, +250
Ron DeSantis, +300
Joe Biden, +550
Kamala Harris, +1200
Mike Pence, +1400
Nikki Haley, +2500
Pete Buttigieg, +2500
Gavin Newsom, +3000
Michelle Obama, +3500
Dwayne Johnson, +4000
Hillary Clinton, +4000
Elizabeth Warren, +4500
Kristi Noem, +5000
Mike Pompeo, +5000
Tucker Carlson, +5000
Ted Cruz, +5000
Tom Cotton, +6500
Josh Hawley, +6500
Jeff Bezos, +6500
Alexandria Ocasio-Cortez, +6500
Tulsi Gubbard, +8000
Amy Klobuchar, +8000
Ivanka Trump, +8000
Gretchen Whitmer, +10000
Bernie Sanders, +10000
Kanye West, +10000
Andrew Yang, +10000
Mitt Romney, +10000
Candace Owens, +10000
John Kasich, +10000
Larry Hogan, +10000
Michael Bloomberg, +10000
Chris Christie, +10000
Greg Abbott, +10000
Marco Rubio, +10000
George Clooney, +10000
Dan Crenshaw, +10000
Paul Ryan, +15000
Megan Markle, +15000
Rand Paul, +15000
Mark Zuckerberg, +20000
Andrew Cuomo, +20000
Susan Rice, +20000
-
President Trump and Ron DeSantis are set for an absolutely hellacious clash for the Republican nomination should DeSantis decide to run. The winner of the Republican nomination will be the clear favorite to win the Presidency.
President Biden has the third best odds to win in 2024, though there is a very good chance that President Biden doesn't run again in 2024, as there seems to be growing pressure from Democrats to let some new blood run against either Trump or DeSantis.
Some of the dark horse candidates to keep an eye on include Pete Buttigieg, Gavin Newsom and even Hillary Clinton.