Jaxon Smith-Njigba Set FBS Bowl Record for Receiving Yards in a Game
Published on January 7th, 2023 5:30 pm EST
Written By:
Dave Manuel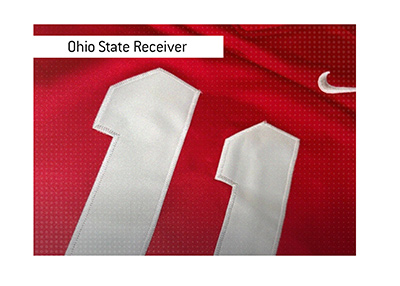 In 2022, Jaxon Smith-Njigba missed the majority of the season with a hamstring issue.
Many players in Smith-Njigba's position would have returned for their senior year in order to build back up their standing for the NFL Draft.
Smith-Njigba, on the other hand, had other plans, declaring for the 2023 NFL Draft despite only catching 5 passes in the 2022 season.
-
Why would Smith-Njigba declare after such a disappointing 2022 season for Ohio State?
The reason is simple - he is still slated to be a top 12-15 pick in most mock drafts, despite his injury woes.
The biggest reason for Smith-Njigba's continued elevated status as one of the top wide receivers in the 2023 NFL Draft?
His 2022 Rose Bowl performance.
-
In his sophomore season with Ohio State, Smith-Njigba excelled with Ohio State, despite the fact that the team had a loaded roster of wide receivers.
In 13 games, Smith-Njigba caught 95 passes for 1,606 yards and 9 touchdowns.
Smith-Njigba emerged as a nearly unstoppable force, combining speed with his physical attributes to become practically uncoverable.
-
In the 2022 Rose Bowl game against the Utah Utes, Smith-Njigba blew away the football world by putting together a performance for the ages.
In a back-and-forth game that Ohio State won by a score of 48-45, Smith-Njigba put up this line with the entire world watching on ESPN:
15 catches
347 yards
3 touchdowns
Smith-Njigba had 50-yard, 30-yard and 52-yard TD receptions to give his team the victory.
Smith-Njigba not only set the Ohio State record for most receiving yards in a game, but he also broke the FBS Bowl record as well.
The football world was blown away by the performance, and if Smith-Njigba hadn't been just a sophomore, there is no doubt that he would have been a top pick in the 2022 NFL Draft.
The performance was so good, in fact, that people haven't forgotten, which is why Smith-Njigba is still projected to be a top 10-15 pick in the 2023 NFL Draft, despite hardly playing this season.