President Trump Narrows Gap Thanks to RNC, Strong Stock Market
Published on August 27th, 2020 7:11 pm EST
Written By:
Dave Manuel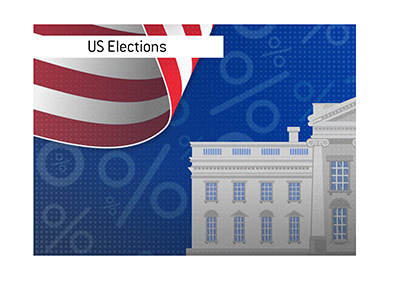 The lead that Democratic nominee Joe Biden enjoyed a few weeks ago is almost gone.
At one point, Joe Biden was listed as a -180 favourite to win at most US and European sports books.
This meant that you would need to bet $180 on Joe Biden in order to have a chance of winning $100 back, which meant that Biden was a significant favorite to win (at the time).
Things have changed, and President Trump seems to be picking up momentum.
As of this moment, the odds have narrowed to the point where both men are practically a coin flip to win in November.
Here are the current betting odds as of this moment:
Joe Biden, -125
Donald Trump, +105
Heading into the 2020 calendar year, President Trump was practically a lock to win in November.
In March, the Coronavirus hit the United States, and everything changed overnight.
Suddenly President Trump, who seemed like he was going to waltz to a re-election, was fighting for his political survival. Things looked dire for the incumbent.
Things have gotten brighter for the President, however, as the economy has performed better-than-expected, plus there has been some hopeful news on the Coronavirus front.
-
We are now entering the last few crucial months of the election, and this time should favor the President. President Trump relishes campaigning, plus it is hard to deny that President Trump is a force in debates.
There will likely be three debates between Trump and Biden, along with a Vice Presidential debate.
Anything could happen at this point, though Trump supporters should be emboldened by the fact that bookmakers feel as though he is gaining momentum as we head into the fall.