Kevin Durant, Kawhi Leonard Amongst Free Agent Class This Season
Published on June 27th, 2019 12:30 pm EST
Written By:
Dave Manuel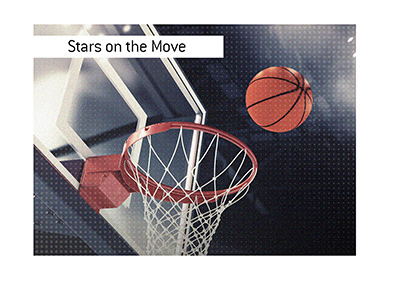 Free agency season is almost upon us in the NBA.
On the evening of June 30th, players will be allowed to start meeting with their potential suitors. Over the first couple of days of July, a tidal wave of free agency action will be expected to take place, with most of the big names available likely choosing their new homes by July 3rd.
There are a large number of impact players that are available this year, including the likes of Kevin Durant, Kyrie Irving, Kawhi Leonard and Kemba Walker, just to name a few.
The NBA Finals may have changed the landing spot for a couple of the big stars that were involved, as you'll read below. Let's take a look at the current odds for some of the biggest players that will be available in free agency.
Kawhi Leonard
The Raptors' title made it much more likely that Kawhi will be staying in Toronto, at least for a few more years.
While there is a chance that the Clippers make a compelling case, there is an increasing likelihood that Leonard will sign a 1-2 year deal with the Raptors and then re-evaluate his options when he has 10 years of league experience.
The Raptors are the clear favourites to re-sign Leonard at this point - barring some sort of a surprise, expect Leonard to stay in Toronto for next year.
Kevin Durant
After Durant blew out his Achilles, the chances of him re-signing with the Warriors increased quite a bit, though that doesn't mean that Durant will ever play with the team again.
There is a thought that the Warriors will give Durant the super-max and then trade him to a team like the Knicks when Durant is once again healthy. Both sides would win under this scenario - Durant would get his money and the Warriors would get something in return for Durant.
If Durant does leave, he is almost certainly going to the Brooklyn Nets, with the New York Knicks also seen as a possibility.
Kyrie Irving
After saying that he would re-sign with the Celtics earlier in the season, Irving is gone from Boston.
Forget about a reunion with Lebron in LA - Kyrie is going to the Brooklyn Nets.
Klay Thompson
Thompson doesn't want to leave Golden State and will be signing a max deal with the team if one is offered, which is almost certainly will. Klay Thompson isn't leaving.
Kemba Walker
Charlotte doesn't seem willing to give Walker the supermax, which means that he could find himself with another club. The Boston Celtics have reportedly come one as strong suitors and will likely be offering Walker a max contract at the start of free agency. The Celtics are the favourites to sign Walker as of this moment.
Jimmy Butler
Butler will almost certainly be signing a supermax with the 76ers, though the question is - will this be a sign-and-trade? Rumor has it that the Rockets are desperately trying to make room to take on Butler's contract. Expect the 76ers to sign Butler to a deal, though don't be surprised if they end up trading him.
Tobias Harris
The 76ers will almost certainly re-sign Harris to a deal, especially if Jimmy Butler leaves the team via free agency or a sign-and-trade.
Harris to the 76ers is as close to a done deal as it gets.
-
This is where we currently sit when it conmes to free agency - there is always the possibility for some surprises. For instance, the Dallas Mavericks are expected to make strong pushes on some of these big name free agents and could end up scooping somebody like Kemba Walker.