Philadelphia Eagles vs New England Patriots Highlights Week 2 Preseason Games
Published on August 17th, 2018 10:43 am EST
Written By:
Dave Manuel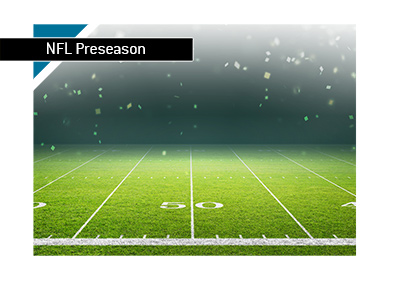 NFL preseason games don't mean anything, though that doesn't stop football hungry people from betting on them.
A full slate of Week 2 preseason games will take place over the next couple of days, including the first Monday Night Football game of the year on August 20th between the Baltimore Ravens and Indianapolis Colts.
In Week 2 of the preseason, we tend to see all of the big players take the field for the first time as teams ramp up their preparations for the season. In most cases, the team's starters will play about a half before packing it in for the night. This means that we should see the first of the likes of Tom Brady and Drew Brees this year before they turn it over to the team's youngest players.
Week 2 will kick off with a game between the Philadelphia Eagles and New England Patriots. This game is obviously notable as it is a rematch of last year's Super Bowl, when Nick Foles led the Eagles to a victory over Tom Brady and the Patriots.
Week 2 will also feature the first Sunday Night Football and Monday Night Football action of the year, as the Seahawks square off against the Charges on SNF, while the Ravens and Colts battle on Monday Night Football.
Some of the more interesting storylines to keep an eye on will be the health of Andrew Luck and the progression of rookies such as Saquon Barkley, just to name a few.
-
Here are the betting odds for the slate of Week 2 preseason games in the NFL:
Philadephia Eagles, +3.5, -110
New England Patriots, -3.5, -110
New York Jets, +1, -110
Washington Redskins, -1, -110
Pittsburgh Steelers, +5.5, -110
Green Bay Packers, -5.5, -110
Kansas City Chiefs, +1, -115
Atlanta Falcons, -1, -105
New York Giants, +3, -110
Detroit Lions, -3, -110
Buffalo Bills, +3.5, -115
Cleveland Browns, -3.5, -105
Miami Dolphins, +3, +100
Carolina Panthers, -3, -110
Arizona Cardinals, +3.5, -110
New Orleans Saints, -3.5, -110
Jacksonville Jaguars, +4.5, -115
Minnesota Vikings, -4.5, -105
Oakland Raiders, +2.5, -110
LA Rams, -2.5, -110
Cincinnati Bengals, +3, +100
Dallas Cowboys, -3, -120
San Francisco 49ers, +2.5, -110
Houston Texans, -2.5, -110
Tampa Bay Buccaneers, +3, -120
Tennessee Titans, -3, +100
Chicago Bears, +3, -100
Denver Broncos, -3, -110
Seattle Seahawks, +3, +100
LA Chargers, -3, -120
Baltimore Ravens, +1, -115
Indianapolis Colts, -1, -105