Calvin Johnson and Cooper Kupp Both Came Close to Breaking 2,000 Yard Barrier
Published on September 11th, 2023 12:48 am EST
Written By:
Dave Manuel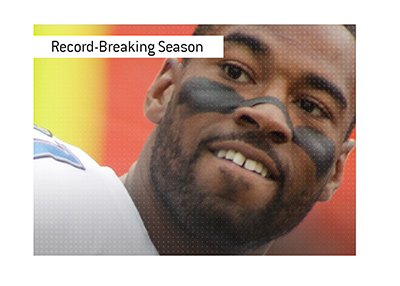 Jerry Rice. Calvin Johnson. Julio Jones.
These are just some of the wide receivers that made a run at the 2,000 yard mark in a single season, though all three ended up coming short.
With Tyreek Hill making noise about wanting to break 2,000 receiving yards in a single season, the obvious question becomes - has anyone else accomplished this task?
The answer? No.
Two players - Calvin Johnson and Cooper Kupp - have broken the 1,900 yard mark, and a number of others (including Jerry Rice) have broken 1,800 yards.
-
In 2012, Calvin "Megatron" Johnson put together a season for the ages, catching 122 balls for a total of 1,964 yards.
Johnson would break the 100 yard mark 11 times in 2012. In two of these games, he would go over the 200 yard mark.
Johnson went on a torrid run about halfway through the season, as he put together a string of eight straight games where he notched 100 yards or more.
In his 15th game of the season, a 31-18 loss against the Atlanta Falcons, Johnson put up a ridiculous 225 yards on 16 targets. This 225 yard total was his highest of the season, and put him within 108 yards of the 2,000 yard mark.
The Lions were 4-11 and far out of the playoffs by that point - why not feed Johnson all day long to get him the record?
-
This is exactly what the Lions tried, as Johnson was targeted 14 times in the game.
Things didn't work out for "Megatron", however, as he caught just 5 passes for 71 yards.
In the end, Johnson fell 36 yards short of hitting the 2,000 yard mark.
Will Tyreek Hill become the first wide receiver to break the mark?
-
Here are the top 5 single-season receiving marks as of the start of the 2023 season:
1. Calvin Johnson, 2012, 1,964 yards
2. Cooper Kupp, 2021, 1,947 yards
3. Julio Jones, 2015, 1,871 yards
4. Jerry Rice, 1995, 1,848 yards
5. Antonio Brown, 2015, 1,834 yards