Tom Tupa Was Taken 68th Overall in 1988 NFL Draft
Published on April 21st, 2023 3:27 pm EST
Written By:
Dave Manuel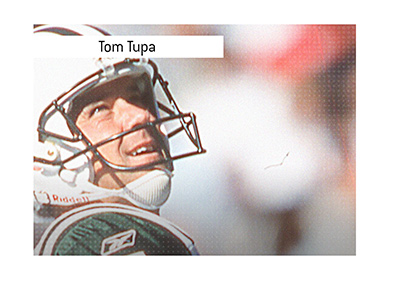 The 1988 NFL Draft was notable for a number of different reasons.
One of the biggest reasons? Quarterback talent was so sparse in the draft that the first quarterback wasn't taken until the third round.
This hasn't happened since, and will almost certainly never happen again.
-
There are two reasons why the 1988 NFL Draft didn't see a quarterback taken until the third round:
1) The talent in the draft at the QB position wasn't very good
2) The game has changed since 1988, with teams relying much much on the quarterback position
The 1988 NFL Draft had a number of great talents, including Hall of Famers Tim Brown, Michael Irvin and Randall McDaniel, just to name a few.
Quarterbacks, however, were very lacking in the draft.
-
The first quarterback taken in the 1988 NFL Draft was Tom Tupa of Ohio State, who was also known for his punting prowess.
Tupa was taken in the third round, #68 overall, by the Phoenix Cardinals.
Chris Chandler was the first "pure" quarterback to be taken in the draft, as he was selected #76 overall by the Indianapolis Colts.
The next quarterback taken was Don McPherson, who was taken all the way in the sixth round by the Philadelphia Eagles.
-
Tom Tupa ended up being more known for his punting skills than his quarterbacking skills, as he would be named a First-Team All-Pro in 1999.
As a quarterback in the league, Tupa would throw 12 touchdowns and 25 interceptions, for a total passer rating of 60.5.
-
There has been only one draft since 1988 - the 1996 NFL Draft - when a quarterback wasn't taken in the first round.
Given the importance of the QB position in the NFL, there is a very good chance that will never see another draft where a QB isn't taken in the first round.