College Football Playoffs May Expand To 12 Teams By 2024
Published on August 31st, 2022 10:04 pm EST
Written By:
Dave Manuel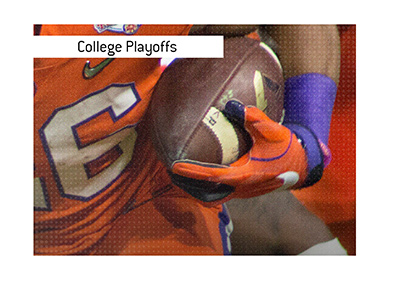 On Friday, the Board of Managers of The College Football Playoff (CFP) will likely vote on a proposed expansion of the College Football Playoffs.
The 11-member Board of Managers, which is comprised of representatives from each FBS conference and Notre Dame, will be voting on an expansion proposal that was first put forth last year.
Deciding how to expand the College Football Playoffs is a more complex process than it may seem, and there have reportedly been over 50 proposals tabled. There are many working parts to consider, and many different factors that have to be taken into account.
The main reason behind the proposed expansion? Money. An expansion of the College Football Playoffs to 12 teams would generate hundreds of millions of dollars per year in extra revenues.
If the proposal if unanimously accepted by the 11-member Board of Managers, the College Football Playoffs may be expanded as early as 2024.
-
So - how would a 12 team College Football Playoff bracket work?
To start, the six highest-ranked conference champions would receive
automatic berths
to the tournaments, while the next six highest-ranked teams would get
at-large bids
.
At-large bids basically means that the teams would be selected by a committee, versus automatically qualifying.
So - we now have our 12 teams.
The
four highest-ranked conference champions
would receive automatic first-round byes, while the remaining eight teams would play each other.
The first-round games would take place on the home field of the higher-ranked team, and the games would take place shortly after the Conference championship games.
So - the #5 ranked team would play host to the #12 ranked team, and so on.
After the first round games have been completed, the quarterfinals and semi-finals would be hosted by a rotation of six bowls.
Finally, the College Football Playoff Championship game would take place.
-
This new format would result in a significant amount of extra football taking place.
A team that plays in the first round, for instance, could end up playing four games en route to the title game.
At least college football players can now sign NIL deals, so a player on a #12 ranked team that makes it to the final playoff game, for instance, could end up making a significant amount of money if they parlayed the team's success into a new NIL deal.
-
There have been a number of different issues to iron out, ranging from format to distribution of money to venue selection.
It seems as though these issues are finally close to getting ironed out, and that an expanded CFP could be coming sooner rather than later.