Scott Berry Nets Massive Payoff After Holding Onto Winning Ticket
Published on June 13th, 2019 1:53 pm EST
Written By:
Dave Manuel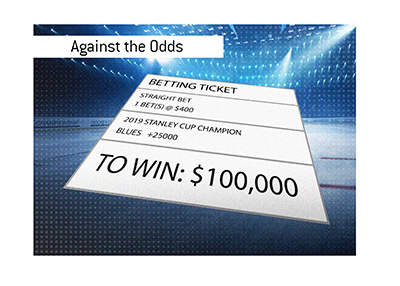 During a January trip to Las Vegas, Scott Berry decided to place a $400 wager on his favourite hockey team, the St. Louis Blues.
Berry walked up to the cage at Paris Las Vegas and put down $400 on his beloved St. Louis Blues to win the Stanley Cup in June.
At the time, the Blues were +25000 to win. That translates into 250/1 odds.
In January, the St. Louis Blues were in complete disarray and didn't seem like they had any chance of making the playoffs.
The team elected to promote Jordan Binnington from the AHL, and the Blues proceeded to go on a 24-6-4 run from January 23rd until the end of the season, clinching a playoff spot after being seemingly left for dead earlier in the season.
The hot streak would continue into the playoffs, as the Blues got past the Jets, Stars and Sharks (all great teams in their own ways) to make it to the Stanley Cup finals.
-
As the Blues moved further and further into the playoffs, the offers for Berry's ticket continued to get larger and larger.
There are people who will buy tickets from people like Berry. According to reports, Berry was offered as much as $75,000 for his ticket, though he refused to sell.
In addition, Berry could have hedged his ticket, guaranteeing himself some profit, though he elected to ride on, leaving himself unhedged.
It was going to be all or nothing.
As the story caught national media attention, the offers for the ticket continued to pour in, though Berry remained unmoved.
After the Blues lost at home in Game 6, the value of Berry's ticket plunged, though he elected to hang in there, refusing to hedge or sell his ticket.
After a heart-wrenching first period, the Blues scored two quick goals and eventually won the game.
The next time that he is in Las Vegas, Scott Berry will be able to pick up his $100,400 (his $400 bet gets returned as well) payout. In addition, Berry's name will forever be etched in lore, as he refused to buckle for the sake of his team.