Germany, South Africa Top List of Countries That Have Been Banned
Published on December 11th, 2019 2:19 pm EST
Written By:
Dave Manuel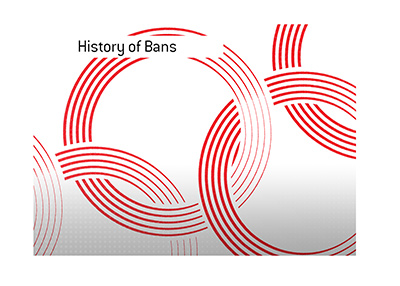 Earlier this week, WADA (World Anti-Doping Agency) revealed that Russia has been banned from competing in the Tokyo 2020 Summer Olympics and the 2022 FIFA World Cup due to the alleged manipulation of doping data.
Athletes will reportedly still be able to compete, though they will not be able to do so under the name of the Russian Federation. This means no Russian flag and no Russian anthem.
Vladimir Putin is obviously not happy about this, though it appears as though the temporary ban will go ahead.
Russia isn't the first nation to be banned from participating in the Olympics, and they certainly won't be the last.
Here is a list of the countries that have been banned from participating in the Olympic games in the past:
1920 Olympic Games (
Germany, Hungary, Austria, Bulgaria, Ottoman Empire
)
The 1920 Olympic Games came in the aftermath of World War I.
Five nations - Germany, Hungary, Austria, Bulgaria and the Ottoman Empire - were blamed for starting World War I, and there were sanctions imposed against these countries.
One of the sanctions - these nations were banned from participating in the Olympics.
1924 Olympic Games (
Germany
)
Germany was not invited by the Organizing Committee, so technically their ban was still in effect in 1924.
The rest of the nations that had been banned in 1920 were invited to participate.
1948 Olympic Games (
Germany, Japan
)
After being banned from the 1920 and 1924 Olympic Games, Germany hosted the event in 1936, only to be banned in 1948 for their role in World War II.
Japan was also banned in 1948.
It should be noted that the Soviet Union was not banned in 1948, despite the fact that they didn't participate. They were invited, though they chose not to attend.
1964-1988 Olympic Games (
South Africa
)
South Africa was banned due to their "apartheid system" in sports, and this ban would last until 1992.
South Africa was, however, allowed to participate in the Paralympics in 1964.
1968 Olympic Games (
North Korea
)
This one is trickier - this was part ban, part withdrawal by North Korea.
The Olympic Committee decided to ban North Korea's track and field athletes after they had participated in an event called "Games of the New Emerging Forces" (GANEFO). GANEFO was an event that was set up by Indonesia that would run counter to the Olympic Games, and was designed to be more inclusive of emerging nations.
In addition, the IOC wouldn't allow North Korea to participate under the name of "Democratic People's Republic of Korea", so North Korea would decline to participate.
1972 Olympic Games (
Rhodesia
)
Rhodesia had its invitation to the 1972 Olympic Games withdrawn after several other African nations, including Ethiopia and Kenya, filed protests against the country. Rhodesia was declared an "illegal regime", and there was mounting pressure from multiple factions to have them blocked from participating in the Olympics.
Four days before the event, the IOC withdrew Rhodesia's invitation.
2000 Olympic Games (
Afghanistan
)
Afghanistan was banned from the event due to the ruling Taliban's "oppression of women and the prohibition of sports" in the country.
2016 Olympic Games (
Kuwait
)
Kuwait was banned from participating in the 2016 Olympic Games due to the government's "interference" in the country's Olympic committee.
2020 Olympic Games (
Russia
)
Unless something changes, Russian athletes will be barred from participating in the 2022 Olympic Games under the Russian flag.
Instead, these athletes will likely be allowed to participate under the Olympic flag.
This is in regards to a doping scandal involving Russia that has stretched over years. Russia is indignant - it will be interesting to see how this story resolves itself ahead of the Olympics this summer.