The NHL Was Permanently Changed When Wayne Gretzky Was Dealt To the Los Angeles Kings
Published on February 22nd, 2022 2:22 pm EST
Written By:
Dave Manuel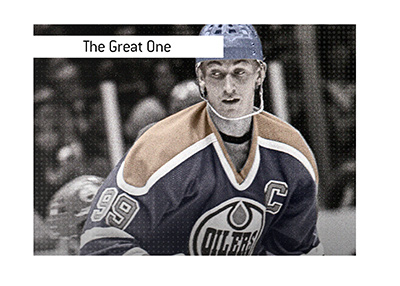 It was the spring of 1988.
Wayne Gretzky was basking in the glow of winning yet another Stanley Cup with the Edmonton Oilers. Gretzky was in his prime and had already proven to most that he was the greatest hockey player to have ever lived.
A few hours later, Gretzky was informed by father, Walter, that the Oilers were shopping "The Great One" around to a number of different teams, including the Los Angeles Kings, Detroit Red Wings and Vancouver Canucks.
It was practically unthinkable that the Oilers could be contemplating moving the best hockey player that had ever lived, but the reality was that the owner of the Oilers, Peter Pocklington, needed money, and Gretzky was the most valuable asset in the NHL, by far.
-
According to reports, Wayne Gretzky didn't initially want to leave Edmonton.
There were rumours that Gretzky's new wife, Janet Jones, wanted to move to Los Angeles, as she was an actress.
Did she press Gretzky to make the move to Los Angeles after the idea was first presented? We'll never know.
What we do know is that the owner of the Kings, Bruce McNall, called Gretzky and asked to meet.
During the meeting, Gretzky's opinion of leaving Edmonton started to change, and he became involved in the negotiations.
Gretzky's main request? That his teammates, Marty McSorley and Mike Krushelnyski, get included in the deal as well.
Both sides quickly signed off on this, and the deal soon went through.
-
On August 9th, 1988, the deal was officially announced, and looked like this:
To Los Angeles:
Wayne Gretzky
Marty McSorley
Mike Krushelnyski
To Edmonton
Jimmy Carson
Martin Gelinas
1st Round picks in 1989, 1991 and 1993
$15 Million cash
-
What really burned Oilers fans is the fact that Gretzky was essentially sold in order to help right Peter Pocklington's sinking financial ship.
Edmonton fans were outraged by the move, and they directed their fury mostly at Peter Pocklington, but also at Gretzky and his wife.
In fact, the trade was such a big deal that some Canadian politicians tried to block the trade, but that obviously never happened.
-
The trade changed the NHL forever, as the arrival of Wayne Gretzky to a major American market greatly increased the reach of the NHL in the United States.
This star power in California led to greater interest in hockey in the United States, which resulted in the NHL issuing expansion franchises to the likes of San Jose, Tampa Bay, Anaheim, Florida and Nashville, just to name a few.
The trade also proved that no single player was untouchable, and that there was a price that could be paid for anybody.