Wayne Gretzky Was Certainly Not a Fighter
Published on January 14th, 2023 3:54 pm EST
Written By:
Dave Manuel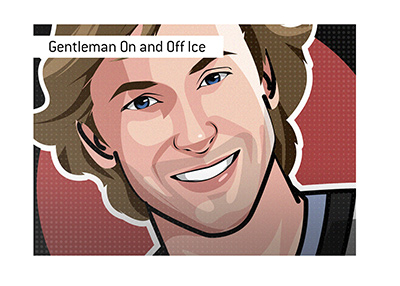 Even Wayne Gretzky, one of the most sporting and gentlemanly hockey players of all time, got into fights from time to time.
There were a number of occasions when Gretzky would wrestle in a scrum and maybe even headlock somebody.
There were only three times over the course of Gretzky's career, however, when he actually dropped the gloves for a fight, and that was against Doug Lecuyer, Neil Broten and Bob Murray.
Note:
Some people would note that Gretzky received a fighting major against Lars Lindgren as well, but we aren't counting that, as it wasn't a fight - it was a headlock.
-
The first fight of Gretzky's career took place on March 14th, 1980 in a game against the Chicago Blackhawks.
With the Blackhawks down 5-2 in the third period, Doug Lecuyer was looking for a spark for his team.
Gretzky and Lecuyer would drop the gloves, even though the Oilers were in full control of the game. Maybe a young Wayne Gretzky was looking to prove himself to his teammates.
Unfortunately for Gretzky, Lecuyer was pretty tough, and the fight didn't last long at all, with Gretzky taking the worst of it.
This would be a recurring theme over Gretzky's three fights.
-
The second fight of Gretzky's career took place on December 22nd, 1982 against the Minnesota North Stars.
According to Gretzky, Sports Illustrated had actually flown out to this game to present him with an award for "Sportsman of the Year". This is what makes Gretzky's fight against Neil Broten so amusing.
In the second shift of the game, Broten and Gretzky dropped the gloves, with Broten landing a couple of nice punches on the "Great One".
This is the only Gretzky fight that was caught on tape:
Broten wasn't a big guy either, and Gretzky said that he and Broten laughed about the fight while sitting in the penalty box.
Gretzky's teammate, Dave Semenko, would later call the fight a "cat fight".
-
Gretzky's last fight came against Bob Murray of the Chicago Blackhawks, who would go on to enjoy a long career as a NHL executive.
The fight between Murray and Gretzky took place early on in the first period. Gretzky slashed Murray and the two players ended up dropping the gloves.
According to Gretzky, Murray was on top and reigning punches down on the "Great One". Murray asked Gretzky if he had had enough, to which Gretzky responded in the affirmative.
Murray reportedly said "Ok, just lie there and don't do anything".
This would be the last fight of Gretzky's career.
-
As Gretzky aged and gained wisdom, he came to the realization that he wasn't any good at fighting, and he would never fight again for the remainder of his career.