Wayne Gretzky Signed 21-Year Contract With Oilers in 1979
Published on November 9th, 2022 2:02 pm EST
Written By:
Dave Manuel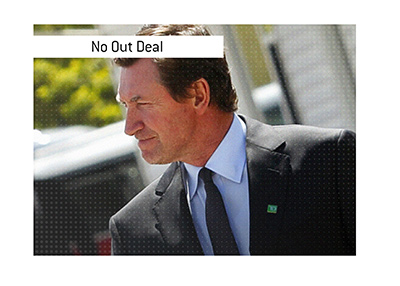 Wayne Gretzky wasn't drafted into the NHL.
Instead, Wayne Gretzky started his professional career in 1978 when he signed a 7-year personal services deal with the Indianapolis Racers of the World Hockey Association.
The contract was worth a pretty penny to the 17-year old Gretzky - in fact, he was set to earn $1.7 million over 7 years. A small fortune back in those days.
Gretzky would be sold to the Edmonton Oilers after just 8 games.
In January of 1979, Wayne Gretzky would shock the hockey world by signing a 21-year personal services deal with the Oilers.
The deal included a 10-year renegotiation clause, where Gretzky could negotiate a higher salary.
He did not, however, have an "out" in the deal.
-
Here is how much Gretzky would be paid in the deal:
1978-79 - $100,000 CDN
1979-80 - $150,000 CDN
1980-81 - $150,000 CDN
1981-82 - $175,000 CDN
1982-83 - $280,000 CDN
1983-84 - $280,000 CDN
1984-85 - $280,000 CDN
1985-86 - $280,000 CDN
1986-87 - $280,000 CDN
In addition, Gretzky also earned a $350,000 signing bonus when he signed the deal in 1979.
-
For the 1987-88 season, Gretzky and the Oilers would negotiate a new contract.
Gretzky earned $1 million from the Oilers in 1987-88.
-
By the 1988-89 season, Gretzky was earning a base salary of $2 million.
Gretzky would earn the majority of his money in the latter half of his career, as inflation and increased TV money increased the value of player contracts across the league.
-
In this day and age, Gretzky obviously wouldn't have been able to sign a 21-year deal with any team, as the CBA limits the length of contracts.
In the late '70s, however, it was the Wild, Wild West, and the Oilers attempted to lock up Gretzky for the entirety of his career, which, in hindsight, was a very shrewd move.