GSP vs Carlos Condit Betting Odds
Published on October 2nd, 2011 11:33 am EST
Click Here to Qualify for a £200 Bonus at Bet365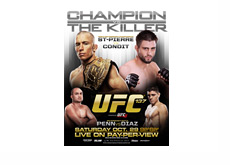 On Saturday, October 29th, Georges St. Pierre and Carlos "The Natural Born Killer" Condit will be headlining UFC 137 in Las Vegas.
As you may or may not be aware, the original main event was supposed to be GSP vs Nick Diaz. However, Nick Diaz decided to no-show a press conference, and Dana White decided to punish Diaz by removing him from the main event. Carlos Condit, who was originally supposed to face BJ Penn, was given the main event spot and took it in an instant.
As of right now, the lines for three UFC 137 fights are available on Bodog, with more becoming available as the event draws closer. Let's look at the three match-ups and give our picks:
Georges "Rush" St. Pierre, -400
Carlos Condit, +300
This is actually a much more compelling match-up than GSP vs Diaz. Sure, Diaz is a highly entertaining fighter, but GSP would have almost certainly taken him down at will and ground-and-pounded Diaz into submission.
Condit is a complete fighter who can end a fight in an instant, and I believe that he will offer a much better challenge to GSP.
Having said that, GSP has the edge in practically every category in this fight, and I expect him to win handily. The big question is - will he get the finish this time around?
Pick: GSP, -400
BJ Penn, -125
Nick Diaz, -105
Which BJ Penn will show up for this fight? The BJ Penn who destroyed Matt Hughes and Diego Sanchez, or the BJ Penn who lost twice to Frankie Edgar?
This fight is a definite match of the year candidate. The oddsmakers have BJ Penn as a slight favorite, and I believe that they have it right. I'm taking BJ Penn to win. This will be a classic - both fighters are fantastic on the ground, and both fighters are very good boxers.
Pick: BJ Penn, -125
Cheick Kongo, +105
Matt Mitrione, -135
In my opinion, Mitrione should be a much bigger favorite in this fight. Mitrione is looking better with each passing fight, and I would expect the trend to continue on October 29th.
Kongo, on the other hand, seems to be getting worse and worse with each passing fight. Sure he beat Pat Barry at UFC Live 4 - Kongo vs Barry, but he almost had his head separated from his shoulders before managing to score a flash knockout. Prior to that, an uninspiring draw against Travis Browne, an uninspiring victory over Paul Buentello and an embarrassing loss at the hands of Frank Mir at UFC 107.
In my opinion, Mitrione should be at least a -200 favourite in this fight, which makes taking him to win an easy choice for me.
Pick: Matt Mitrione