Tony Hrkac Put Up 116 Points in the 1986-87 Season
Published on July 6th, 2023 6:38 pm EST
Written By:
Dave Manuel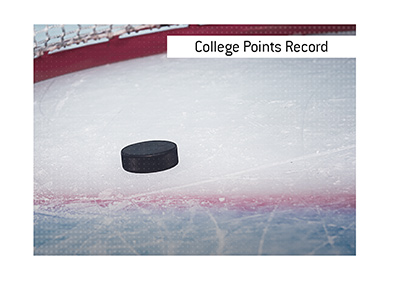 College hockey has produced some fantastic players, including the likes of Paul Kariya, Adam Oates and Martin St. Louis, just to name a few.
The single-season record, however, for most points in a single season belongs to Tony Hrkac, who put up a total of 116 points during the 1986-87 season.
Hrkac's record hasn't even come close to being touched.
Second place is jointly held by Bill Watson and Steve Moria, who both scored 109 points during the 1984-85 season, while Dave Rost and DAve Taylor both notched 108 in 1976-77.
Jack Eichel and Kyle Conner both scored 71 points in the mid 2010s, and that is the closest that anybody has come to breaking the record in the modern era of college hockey.
-
Hrkac played for the University of North Dakota for two seasons, and was wildly successful during his time there.
In his second season, Hrkac won the Hobey Baker award (top college player) and led his team to the national title.
Hrkac was taken in the second round of the 1984 NHL Draft by the St. Louis Blues.
Hrkac had an extremely long career as a professional hockey player, as he played until the 2009-10 season, when he finally made the decision to retire.
Hrkac was up and down from the NHL over the course of his career. His best year came in 2001-02, when he managed to score 18 goals as a member of the Atlanta Thrashers.
-
It seems very, very unlikely that Hrkac's record will be broken anytime soon.