"The Shrug" Took Place Over Thirty Years Ago
Published on June 3rd, 2023 2:21 pm EST
Written By:
Dave Manuel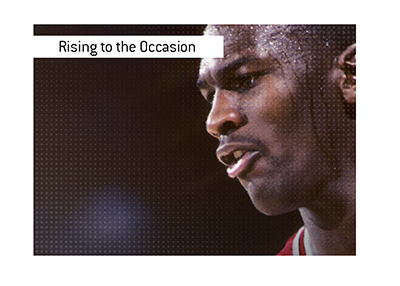 "The Shrug" is iconic.
In 1992, the Chicago Bulls, led by Michael Jordan, were looking to repeat in the NBA Finals.
Their opponent? The Portland Trail Blazers, led by Clyde Drexler.
The Bulls, who finished the regular season with a record of 67-15, were looking to send a strong message in Game 1.
That message was: you aren't going to beat us on our home court, so don't even bother.
Michael Jordan, who would go on to win the Finals MVP award, started out Game 1 on absolute fire.
Jordan, who would finish the game with 39 points, hit six three-pointers in the first half of the game, and went into halftime with 35 points.
Jordan would also finish the game with 11 assists.
The Bulls would go into halftime with a 66-51 lead.
In the second half, MJ decided to start dishing more, as he was frequently being double-teamed due to his hot shooting start.
The Bulls would widen their lead to 36 points heading into the fourth quarter, and the game was over.
As a matter of fact, the series ended that night as well.
-
After hitting yet another three-pointer in the first half, Michael Jordan turned to the crowd and shrugged, as if to say:
"I don't know what is happening, either."
Michael Jordan was stunned by his hot shooting start, the crowd was losing their minds and the Trail Blazers were left to try and pick up the pieces.
-
Michael Jordan emphatically ended the Trail Blazers' hopes to win the NBA Finals on June 3rd, 1992.
The implication of Jordan's torrid shooting start was clear - if you get too close in this series, I'll destroy you.
This is exactly what would happen in the series - anytime the Trail Blazers would draw close, MJ would take over.
This included one of the best games of Jordan's career - a 46 point gem in Game 6 that gave the Bulls a 3-2 lead in the series.
-
"The Shrug" remains iconic to this day.