Tel Aviv Open - Tournament History, Past Champions, Betting Odds and Favourites to Win
Tournament Details:
Date: Cancelled
Location: Israel
Sport: Tennis
Surface: Outdoor hard court
Total Prize Money:
The military conflict in and around Israel has had its impact on all the major activities in the region, with sports suffering greatly because of it. One such example is the Tel Aviv Open tennis tournament, which is an ATP 250-level event. Over the years, the sporting activities in the area have had a stop-start sort of nature, with huge breaks and cancellations being the obstacles.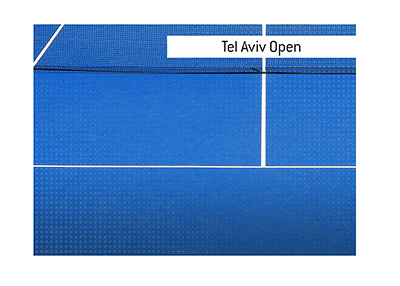 Tel Aviv Open 2023:
The Tel Aviv Open tennis tournament set for next month has been called off due to the ongoing conflict between Israel and Hamas.
Past events:
In the past, Tel Aviv hosted ATP tournaments between 1978 and 1996. Following that, security concerns and political instability were the primary reasons that no ATP tournament was played.
In 2014, Tel Aviv Open was announced as an ATP tournament. However, all the military attacks in the region resulted in the event's cancellation.
What led to the announcement of the 2022 Tel Aviv Open?
A number of tennis tournaments in China got canceled this year. This made certain slots available, and ATP granted one-year licenses to stage ATP tour events in various parts of the world. Tel Aviv Open is one such example as the ATP tour awarded the ATP 250 tournament to the city.
Courts and Naming:
The tournament will be played on hard outdoor courts. The full name of the tournament is ATP Tel Aviv Open, and Watergen is the tournament's major sponsor.
Past Champions:
The Spanish player Javier Sanchez won the most recent Tel Aviv singles event (1996).
Overall, Brad Gilbert has won the most titles at Tel Aviv, with 3 triumphs coming in 1985, 1986, and 1988. Tom Okker was the first champion at Tel Aviv and so far remains the only dutch to have won the title. He was victorious in the 1978 and 1979 Tel Aviv Open titles.
Interestingly, Tom Okker also won the doubles title in 1978, as he paired up with the Romanian tennis star Ilie Nastase.
Similarly, Brad Gilbert from the USA won both the Men's singles and doubles titles in 1986. It goes down as a great coincidence that Brad Gilbert also had Ilie Nastase as his partner.
This was Nastase's second doubles title at Tel Aviv, which made him the man with the most Tel Aviv titles in the doubles category.
The reigning champion is Novak Djokovic.
2023 Tel Aviv Open Schedule:
The 2023 edition of Tel Aviv Open will feature stars such as Novak Djokovic, Marin Cilic, Diego Scwartzman and Maxime Cressy.
-
View more
Tennis Tournaments