Barcelona Open Tennis Tournament Betting Odds, Event Info and More
Tournament Details:
Date: 2024.04.15 - 2024.04.21
Location: Barcelona, Spain
Sport: Tennis
Surface: Clay
Total Prize Money: EUR 2,722,480
The Barcelona Open, formally recognized as the Barcelona Open Banc Sabadell due to its sponsorship affiliations, is an annual men's tennis spectacle on clay.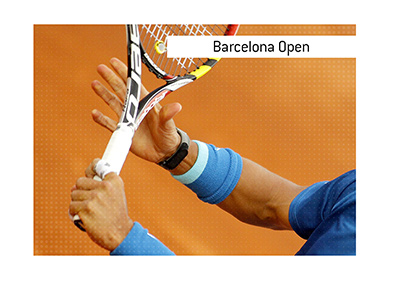 Situated in the heart of Barcelona, Spain, this prestigious event punctuates the ATP Tour calendar with a rich history and tradition.
2023 Winner:
Defending champion Carlos Alcaraz beat Stefanos Tsitsipas 6-3, 6-4 to claim the 2023 Barcelona Open title without dropping a set. He's the first Spaniard besides
Rafael Nadal
to defend this title.
-
Originating in 1953, the Barcelona Open is not only among the most venerable tennis tournaments globally but also holds the distinction of being Spain's oldest tennis event. As the Trofeo Conde de Godo, it is celebrated as one of the most illustrious clay-court tournaments on the circuit.
Hosted by the Real Club de Tenis Barcelona, located in the city's northwest, the tournament pays homage to tennis legends. The centerpiece is the Pista Rafa Nadal, named in tribute to the iconic Spanish maestro, Rafael Nadal. His numerous victories at this venue underscore his unparalleled mastery on clay.
Beyond its significance in the tennis realm, the Barcelona Open embodies the spirit of the city. It's not merely a sporting extravaganza but an integral social event that echoes Barcelona's vibrant culture. Players and enthusiasts alike cherish the warm, club-like ambiance, a rarity in the professional tennis circuit.
Tournament Highlights:
Category:
Positioned within the ATP Tour 500 series, the champion of this tournament earns 500 ranking points.
Surface:
The battles ensue on outdoor clay courts, making this tournament an essential precursor for those gearing up for the
French Open
, the year's second Grand Slam event that shares the clay court terrain.
Champions of the Past:
Throughout its history, the Barcelona Open has been graced by tennis luminaries. None shine brighter than Rafael Nadal, who not only reigns supreme in terms of titles secured but has, through his conquests, etched an indelible mark as one of the foremost clay-court wizards in tennis annals.
-
The Barcelona Open, known for its rich history and ongoing significance, continues to be a highlight for tennis enthusiasts around the world.
2024 Betting Odds:
The odds for the Barcelona tennis tournament will be posted closer to the event date, which is set to start on April 15th, 2024. The final is on April 21st.
-
View more
Tennis Tournaments