Ted Williams Had On-Base Percentage of .553 in 1941
Published on June 8th, 2023 12:54 pm EST
Written By:
Dave Manuel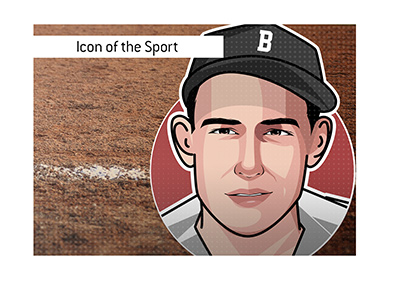 Ted Williams, aka "Teddy Ballgame", aka "The Splendid Splinter", is regarded as one of the best hitters of all time.
Williams' numbers are jaw-dropping - here are just a few of his eye-popping career numbers:
.344 batting average
.482 on-base percentage
1.116 on-base plus slugging percentage
-
Williams had a number of great years in the big leagues - after all, he was a two-time Triple Crown winner, a two-time MVP and a six-time batting champion.
This came despite the fact that Williams interrupted his playing career TWICE to fight for the United States in WWII and the Korean War.
-
Before serving in World War II, Williams turned in one of the greatest hitting campaigns of all time in 1941.
At the age of just 22, Williams hit .406.
This was the last time that anybody in the Major Leagues hit over .400, and it may never happen again.
Williams posted an on-base percentage of .553 in 1941, which remains the record to this day. Over the course of 143 games, Williams had 185 hits and 147 walks in 606 plate appearances. Absolutely absurd.
Williams was hitting for power as well - it's not like he was just hitting singles. Williams had 37 home runs in 1941, along with 120 RBIs.
Some of Teddy's other absurd numbers from 1941:
Slugging percentage, .735
OPS, 1.287
27 strikeouts
-
Here are two more stats to give you an idea of how unbelievable a hitter Ted Williams was:
1. At the age of 38, Williams almost broke .400 again, finishing the season with a batting average of .388.
2. In his last season in the league, at the age of 41, Williams hit .316 with 29 home runs and 72 RBIs, in 113 games.
Absolutely unbelievable.