Cincinnati Reds Latest Team To Throw No-Hitter and Lose
Published on May 15th, 2022 7:21 pm EST
Written By:
Dave Manuel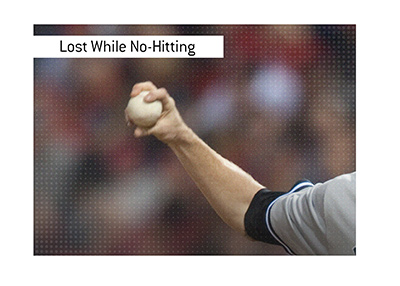 Imagine throwing a no-hitter. And losing.
Now, to add to the indignity - imagine not getting credited for a no-hitter as well.
Six teams have thrown no-hitters and lost since the start of the 1901 season.
The first team? The Colt 45s, who lost to the Cincinnati Reds on April 23rd, 1964.
The latest team? The Cincinnati Reds, who threw a no-hitter and lost to the Pittsburgh Pirates on May 15th, 2022.
Here is the full list of teams that have thrown no-hitters and lost:
1. Cincinnati Reds, May 15th, 2022
2. Los Angeles Angels, June 28th, 2008
3. Boston Red Sox, April 12th, 1992
4. New York Yankees, July 1st, 1990
5. Baltimore Orioles, April 30th, 1967
6. Houston Colt .45s, April 23rd, 1964
-
According to Major League Baseball rules, a no-hitter isn't officially a no-hitter unless a pitcher goes nine full innings.
-
In the May 15th, 2022 contest between the Reds and Pittsburgh Pirates, the Pirates won 1-0 after scoring on a fielder's choice in the 8th inning.
In the June 28th, 2008 game between the Angeles and Los Angeles Dodgers, Jered Weaver and Jose Arredondo combined for a no-hitter, though the Angels still lost 1-0. The Dodgers reached on an error, stole second, advanced on a throwing error and then scored on a sacrifice fly.
In the April 12th, 1992 game between the Red Sox and Cleveland Indians, the Indians won 2-1 despite not having a hit. Matt Young threw eight innings of no-hit ball but was not credited with a no-hitter. The Indians scored their first run on a walk, followed by two stolen bases and an error, and their second run on two walks, a stolen base and a fielder's choice.
In the July 1st, 1990 clash between the Yankees and Chicago White Sox, the White Sox scored FOUR runs without having a single hit, as they would win 4-0. The eighth inning of that contest was a comedy of errors for the Yankees, as they committed three errors and gave up two walks.
In the April 30th, 1967 game between the Detroit Tigers and Baltimore Orioles, the Tigers won 2-1 despite having no hits. In the top of the 9th, the Tigers walked three times, scored on a wild pitch and a fielder's choice. Steve Barber was one out away from a no-hitter in that game, as he pitched 8.2 innings.
On April 23rd, 1964, the Houston Colt .45s lost 1-0 despite holding the Cincinnati Reds to no hits. The Reds scored a single run in the top of the ninth thanks to two Colts .45s errors and a groundout.