Bettors Continue To Hammer Over In Anticipation of Shootout
Published on January 23rd, 2020 12:49 pm EST
Written By:
Dave Manuel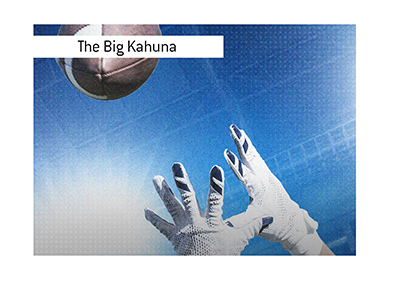 When the NFC Championship game between the San Francisco 49ers and Green Bay Packers came to an end, the Super Bowl Line looked something like this:
Kansas City Chiefs, -2.5
Over/Under 51 Points
The spread has moved a point in the direction of the 49ers since Sunday, though the big move has come in the Over/Under line. A 3 point move may not sound like much, though this is a massive move over the course of just a few days.
Multiple sportsbooks in Las Vegas have reported that they have absolutely gotten hammered by people betting the Over, which has resulted in the Over/Under line moving from 51 points all the way up to 54 points.
-
The fact of the matter is that there are USUALLY plenty of points scored in the Super Bowl.
Add to the fact that you have one of the best quarterbacks in the game taking part this year (Patrick Mahomes) and a well-balanced San Francisco offence (Mostert, Samuel, Jimmy G, Sanders, Kittle), and you certainly have the possibility of points being put up on the board.
Last year's result was an outlier, as the Patriots and Rams combined to score just 16 points, which was the lowest total in Super Bowl history.
Of the 53 Super Bowls that have taken place, 22 of them have had point totals of 50 or more. And don't forget, these numbers include the '60s and '70s, when the point totals in games were significantly lower. There is a much greater emphasis on offence in the NFL these days, with greater protections for the quarterbacks, more pass interference penalties, more creative offensive schemes, etc.
A total of 10 Super Bowl games have had totals of more than 60 points, with all but one of these games taking place in the modern era.
I think that there is a tendency for Super Bowl teams to want to put up a show, which creates higher-scoring contests. Nobody wants to take part in defensive battles when there are hundreds of millions of people across the world watching, hoping to be entertained.
-
The vast majority of gamblers are betting that the Chiefs and 49ers put on an offensive show, and this has caused the total to soar since the end of the Conference Championship games. In fact, one sportsbook said that they had written ZERO under tickets up until Wednesday afternoon, which is incredible.
If the battle between the Chiefs and 49ers does end up as a defensive masterpiece from both sides, Las Vegas sportsbooks should do VERY well.