Early Cash-out Amounts Determined Through Complex Algorithms
Published on December 24th, 2019 2:44 am EST
Written By:
Dave Manuel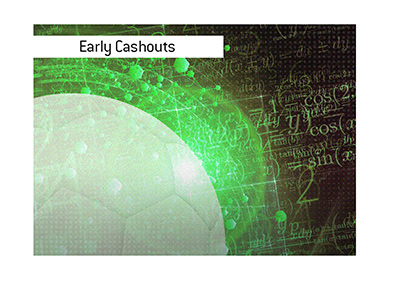 Two of the big advances in sports betting over the past 4-5 years have been in-play betting (which is when you bet on the outcome of a game once the game has already started) and early cash-outs.
In the past, if you placed a wager on a game or put down a futures bet, you would have to wait for the event to conclude before you received your money (if the bet was a winner, of course).
Now, in this day and age, most online sportsbooks will offer something called the early cash-out.
Here is how it works.
Let's say that you bet on Manchester United to defeat Manchester City in a key English Premier League clash.
Five minutes into the match, the score is 0-0 but you feel that Manchester United is clearly getting outplayed and is bound to lose the match. You decide that you no longer want to wager on Manchester United.
In the past, you would be out of luck, and you'd have to hope for the best.
Now, you can utilize something called the early cash-out to get out of your wager, and even reverse it if you like.
Let's say that Manchester United was 2.15 to win when you put down the wager, and you decided to put down £100 on them to win.
When you click on the early cash-out button five minutes into the game, you see that you can get back £82 of your original £100 wager. You click on the Cashout button, and the £82 is immediately put back into your account.
As the game progresses, the amount that you can recoup through the "early cashout" feature will change based on a number of different factors, including time remaining, yellow/red card issuances, goals, etc.
For instance, let's say that Manchester United scores 2 early goals and is up 2-0 after 10 minutes. Well, your wager is looking very good at this point, and the early cash-out might be worth £180 at that point, versus waiting for Manchester United to outright win the game, which would pay out at £215. If you decide that holding the bet for another 80 minutes isn't worth the potential £35 in extra potential profit, you might want to cash in via an early cash-out.
On the other hand, if Manchester City scores an early goal, you might only be able to cash out £35 of your original £100 wager at this point. You would need to ask yourself - does Manchester United actually stand a chance of not only tying the contest, but moving into the lead as well?
-
The amount available via early cash-out is determined through the very complex program that is used to run the sportsbook's in-play betting software. This software takes into account hundreds of different factors that can influence the outcome of a contest and update in near real-time.