Five Sports Records That Will Almost Certainly Never Be Broken
Published on May 15th, 2021 2:55 pm EST
Written By:
Dave Manuel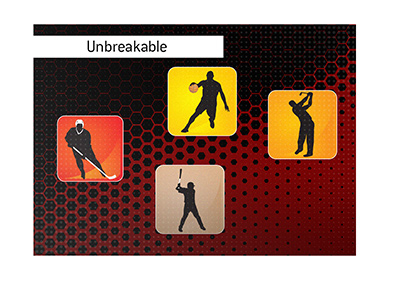 In this day and age, the parity in the major sports leagues across the world is closer than ever.
Athletes that are truly playing at levels ahead of their competition are few and far between in this day and age, as most everybody has access to the same level of instruction, nutrition and fitness regimens.
In short - some of the eye-popping records that were set in the days of yesteryear will probably never be broken because the level of competition in this day and age is simply too strong.
-
There are scores of records that will likely never be broken - here are five that will likely never be broken:
1. Bryon Nelson's 11 Straight PGA Tour Wins.
In 1945, Bryon Nelson put together the greatest season in PGA Tour history.
In that year, Nelson won 18 PGA Tour events, including 11 events in a row.
The closest anybody else has come to breaking that record? Tiger Woods, who won seven straight events during the 2006-07.
The level of competition is just too high on the PGA Tour in this day and age - Bryon Nelson's record will never, ever be broken.
2. Wayne Gretzky's 2,857 All-Time Points.
Over the course of his career, the "Great One" notched a total of 2,857 points over 1,487 games.
That is a pace of nearly 2 points per game over the course of his illustrious career.
The next closest player on the list? Jaromir Jagr, who sits more than
900
points behind Gretzky on the all-time scoring list.
This record is untouchable.
3. Boston Celtics' Eight Straight NBA Titles.
The Boston Celtics had a true dynasty from 1959-1966, as they won an eye-popping eight straight NBA titles during that time.
With the league's Collective Bargaining Agreement, there is just no way for a team to maintain this level of dominance over eight straight seasons. Too many good teams, too many games to be played, too many injuries to avoid, no way to keep all of your good players.
This is another unbreakable record.
4. Cal Ripken Jr.'s 2,632 Consecutive Games Played.
Over the course of 16 years playing for the Baltimore Orioles, Cal Ripken's Jr. never missed a game.
There is no way that this would happen in this day and age, mainly due to the fact that players are given frequent "rest" days.
More focus is given to keeping players "fresh", which is why this record will never be broken.
5. Cy Young's 749 Complete Games.
This record comes from a different era when pitchers would throw every couple of days and frequently stay in for the entire game.
There is just no way that a MLB pitcher will ever beat this record, mainly because of 5-man rotations and relief pitchers. This record will never be broken.
-
These five records are all essentially unbreakable.
Other records, including Wilt Chamberlain's 100 point game or Brett Favre's consecutive game streak, COULD be broken but likely won't be.
The five records above will almost certainly never be broken.