The Canadian Football League Missed An Entire Season Due To COVID-19
Published on April 29th, 2021 2:22 pm EST
Written By:
Dave Manuel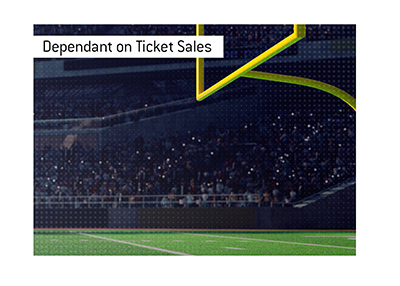 There is at least one major (well, major for the country in which the league is located) sports league that has not played a single game since the COVID-19 pandemic started.
The CFL (Canadian Football League) was founded in 1958, though many of the league's franchises have a much longer history than that.
The league has had its ups and downs over the years, though remains quite popular in Canada, especially in the Prairie provinces (the Saskatchewan Roughriders, for instance, have a fanatical following).
-
In November of 2019, the Winnipeg Blue Bombers defeated the Hamilton Tiger Cats 33-12 to win their 11th Grey Cup.
This was the last CFL game to be played before the COVID-19 pandemic swept across North America in March of 2020.
The league has a television contract with TSN (one of the big sports networks in Canada), though they are extremely dependent on revenue streams such as ticket sales, concession, parking, etc.
The CFL has said that more than half of their revenues come from fans in the stands.
With fans unable to attend games, the league eventually elected to cancel the 2020 season in its entirety - not one game was played.
The league attempted to ask the Canadian government for an interest-free loan, though they were ultimately denied by the federal government. The plan was to use the $30 million loan to put on a shortened season without fans, though the request was turned down.
The league ultimately decided to close its doors for the season in the hopes that fans would be allowed back in 2021.
-
The CFL recently revealed that they have plans to return to play in 2021.
This will involved a shortened season (14 games, down from 18) that starts later than usual (August 5th is the target start date). In addition, the Grey Cup will be held at a later date than usual.
In order to move ahead with their season, the CFL will need to be allowed to welcome a significant number of fans into their games.
There is likely no other league that depends more on people getting vaccinated, and quickly, than the CFL.