Lamar Jackson Holds The Record With 1,206 Rushing Yards in a Season
Published on December 19th, 2022 3:39 pm EST
Written By:
Dave Manuel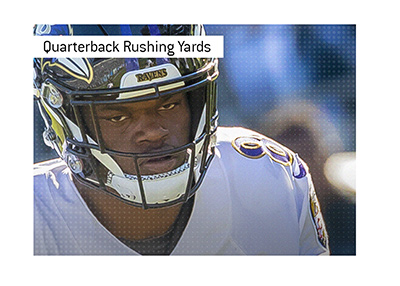 Only three quarterbacks - Lamar Jackson (2019, 2020), Michael Vick (2006) and Justin Fields (2022) have ever rushed for 1,000 yards in a single season.
In 2019, Lamar Jackson became just the second player to unanimously win the MVP awards, as he was a force of nature that season that couldn't be stopped.
Jackson would set the single season rushing record for a quarterback in 2019, as he would gallop for a total of 1,206 yards in 15 games, easily breaking Michael Vick's record (1,039 yards).
During his 2019 campaign, Jackson would rush 176 times for 1,206 yards, which worked out to an eye-popping 6.9 yards per carry.
Jackson's mobility gave opposing defenses nightmares, as they found it next to impossible to contain the MVP winner.
-
The "dual-threat" quarterback is a relatively new phenomenon in the NFL, as quarterbacks tend to be much better athletes in this day and age.
With a few exceptions (Bobby Douglass, Randall Cunningham), quarterbacks used to be largely immobile.
The likes of Dan Marino and Joe Montana didn't rush very much, as they weren't fast and would only rush when they had to.
In this day and age, however, quarterbacks are largely built differently, and the likes of Lamar Jackson, Kyler Murray, Josh Allen and Justin Fields are freakish athletes that would run circles around the quarterbacks of old.
Having a mobile quarterback who can also make accurate passes is a cheat code, as fans of the Baltimore Ravens franchise have seen over the years. Focus too much on the quarterback and you'll leave a receiver or tight end open - focus too much on the downfield action and a quarterback like Lamar Jackson will fire off a 20 yard run.
-
Here are the top five single season rushing yards by a QB (Note: article written on December 19th, 2022 - Fields has games remaining in his season):
Lamar Jackson, 2019, 1,206 yards
Michael Vick, 2006, 1,039 yards
Lamar Jackson, 2020, 1,005 yards
Justin Fields, 2022, 1,000 yards
Bobby Douglass, 1972, 968 yards