Trey Lance Had Just 417 Passing Attempts in High School and College - Combined
Published on August 24th, 2023 4:53 pm EST
Written By:
Dave Manuel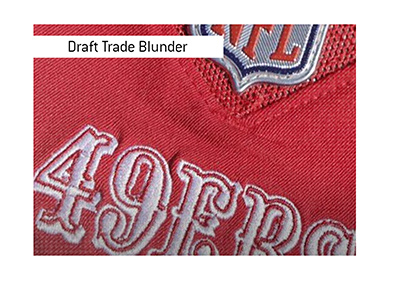 At the 2021 NFL Draft, the San Francisco 49ers made a trade that will go down as one of the biggest blunders in the history of the league.
The 49ers traded their first-round picks in 2021, 2022 and 2023, as well as their third-round pick in 2022, to the Miami Dolphins in exchange for the #3 overall selection in the 2021 draft.
The reason?
The 49ers desperately wanted Trey Lance.
Lance was seen as being a "raw" talent that would be shaped into a top QB by Kyle Shanahan.
The problem? Trey Lance was way, way too "raw".
-
Over his junior/senior seasons in high school and his three years at college, Trey Lance had just 417 passing attempts.
In his junior year in high school, Lance played one game at quarterback, going 7-9 for 132 passing yards.
In his senior year in high school, Lance played eight games at quarterback, going 48-90 for 972 yards.
Lance wanted to attend the University of Minnesota, but they didn't even consider him to be a quarterback prospect.
This led Lance to choosing North Dakota State, as Minnesota and a number of other schools felt that he was a wide receiver or defensive back prospect.
-
Lance redshirted in 2018, playing in two games. That year, Lance would go 1-1 for 12 passing yards.
Lance burst onto the scene in 2019, when he posted 2,786 passing yards, 28 passing touchdowns, 14 rushing touchdowns and 1,100 rushing yards.
Lance would win the Walter Payton Award for being the FCS's most outstanding offensive player.
In 2020, COVID-19 would postpone North Dakota's State season.
Lance would play a single game that season, going 15-30 for 149 yards, before announcing that he would opt out of the remainder of the postponed season to prepare for the 2021 NFL Draft.
-
The 49ers would bet heavily on Lance's raw talent, and that bet would sour in a big way.
In his two years with the 49ers, Lance would attempt just 102 passes, for 5 touchdowns and 3 interceptions.
The 49ers announced recently that Lance did not even win the backup role, and that the team would be "visiting their options" with Lance.
Over the course of 7 years (high school, college, pros), Lance has attempted a little over 500 passes.