Reggie Bush Won The 2005 Heisman Trophy
Published on September 2nd, 2023 7:04 pm EST
Written By:
Dave Manuel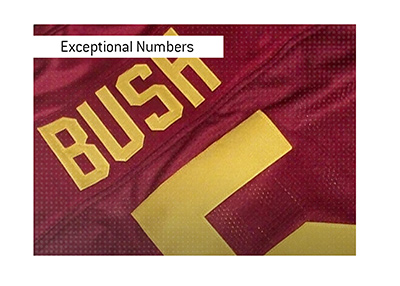 In 2005, Reggie Bush would beat out Vince Young and Matt Leinart to win the Heisman Trophy award.
In 2010, Bush would forfeit the Heisman Trophy following a NCAA investigation that found that Bush had accepted lavish "gifts" while playing at USC, which was against the rules.
-
While USC was forced to disassociate itself from Reggie Bush, his exceptional numbers at the school still stand.
Regardless of what gifts Reggie Bush may have accepted (and many people felt as though the punishment was much, much too harsh), nothing will diminish Bush's unbelievable 2005 season.
Bush was unstoppable and USC tried to put the ball in the dynamic player's hands in every possible situation.
Bush could run and catch, as well as return kicks and punts.
This insane usage resulted in some eye-popping stats in 2005, namely Busy combining for 2,890 all-purpose yards:
200 rushes
1,740 rushing yards
16 rushing touchdowns
37 receptions
478 receiving yards
2 receiving touchdowns
28 kick returns
493 kick return yards
18 punt returns
179 punt return yards
1 touchdown
-
Reggie Bush's last two regular season games at USC really cemented his status as the best player in college football.
In a November 19th, 2005 game against Fresno State, Bush rushed for 294 yards and 2 touchdowns.
In addition, he caught three passes for 68 yards.
In the following week's game against UCLA, Bush's rampage continued, as he rushed for 260 yards and 2 touchdowns.
-
Unsurprisingly, Reggie Bush won the 2005 Heisman Trophy award in a landslide, as he received nearly 800 first place votes.