Where to Bet on Tattersall's Tiara
Race Details:
Date: 2024.06.29
Grade: 1
Open To: Fillies and Mares Aged 3 and Older
Track: Turf
Length: 1,400 Metres
Location: Australia
2023 Winner:
Horse: Palaisipan
Jockey: Kyle Wilson-Taylor
The Tattersall's Club Tiara is a Tattersall's Racing Club Group 1 Thoroughbred race that is annually held in June.
The race is open to fillies and mares aged 3 years old and upwards.
Eagle Farm in Brisbane, Australia plays host to this race, and the race is run on a 1,400 metre turf track.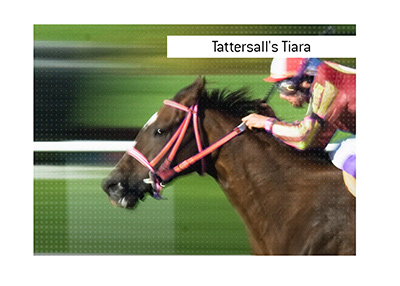 The race is held under Weight for Age conditions.
-
Tattersall's Tiara was first held in 1989, and was originally known as the Winter Stakes.
From 2007 on, this has been a Group 1 race, and is the final Group 1 race of the Australian racing season.
The purse for this race is typically fairly large, as the race attracts some pretty high-profile sponsors.
The purse is typically in the half million dollar range, which helps to attract some high-profile horses and jockeys.
Tattersall's Tiara 2024 Betting Odds:
The betting odds for the 2024 race will be posted closer to the event date.
--
The race was not held in 2020 due to the COVID-19 pandemic - here are some of the previous winners of the Tattersall's Tiara:
2023 - Palaisipan
2022 - Startantes
2021 - Tofane
2019 - Invincibella
2018 - Prompt Response
2017 - Tycoon Tara
2016 - Miss Cover Girl
2015 - Srikandi
-
Tattersall's Club, a social club in Brisbane, Queensland, Australia, is a significant organizer and sponsor of the race. The Tattersall's Racing Club is a branch of Tattersall's Club and oversees the event. Tattersall's itself is a prominent sponsor, providing not only the name but also significant support for the race.
--
View more
Horse Races