The Preakness Stakes Betting Odds and Event Info
Race Details:
Date: 2024.05.18
Grade: 1
Open To: Horses Aged Three and Up
Track: Dirt
Length: 1 3/16 miles (1.91 km)
Location: Pimlico Race Course, Baltimore, Maryland
The Preakness Stakes is one of the three horse races that make up the Triple Crown of Thoroughbred Racing in the United States, the other two being the
Kentucky Derby
and the
Belmont Stakes
.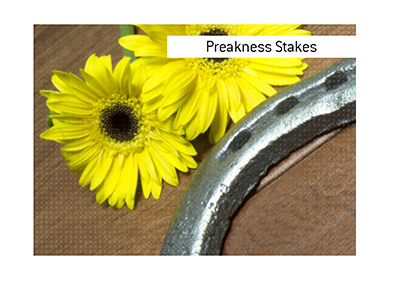 History:
The Preakness Stakes dates back to 1873, making it the second oldest of the Triple Crown races after the Belmont Stakes. The race was named after a horse, Preakness, who won the Dinner Party Stakes on the day the Pimlico Race Course in Baltimore, Maryland, opened in 1870.
2023 Winner:
National Treasure won the event last. Jockey was John R. Velazquez and trainer Bob Baffert. Trainer Bob Baffert has won the Preakness Stakes seven times during his career.
2024 Preakness Stakes Betting Odds:
The odds for the event will be posted closer to the race date.
2024 Purse:
This year the total purse will be in the area of $1,500,000, which is a significant jump from the previous year.
-
Traditionally, the Preakness Stakes is held on the third Saturday of May, coming two weeks post the Kentucky Derby and three weeks prior to the Belmont Stakes.
Significance:
As the second jewel in the Triple Crown, the Preakness often plays a pivotal role in determining whether a horse will have a shot at the coveted Triple Crown title. Winning all three races is a rare and significant achievement in horse racing.
When it comes to attendance, the Preakness Stakes is only second to the Kentucky Derby in North America.
Notable Moments:
Many of horse racing's most memorable moments have occurred during the Preakness, especially when it concerns Triple Crown contenders. For instance, Secretariat's record-setting win in 1973, where he covered the 1 3/16 miles in 1:53, stood as the track record for many years.
Atmosphere:
Given that the Preakness is the second race in the Triple Crown series, there's heightened anticipation, especially if the Kentucky Derby winner is racing.
The event draws a mix of hardcore horse racing enthusiasts, celebrities, locals, and individuals just looking for a good time.
Being in Baltimore, the Preakness reflects some of the city's character and charm. Local food, culture, and traditions are integrated into the overall experience.
While it might not be as renowned for its fashion as the Kentucky Derby, many attendees at the Preakness still dress up. Women often wear colorful dresses paired with hats, while men can be seen in suits or smart-casual attire.
The official drink at the event is called the Black-Eyed Susan, named after Maryland's state flower.
After the race is over, the weather vane atop the clubhouse is painted in the winning horse's colors.
-
The Preakness Stakes is a must-watch event for those that love horse racing.
--
View more
Horse Races