How To Bet on Hopeful Stakes 2022
→ Click Here To Bet on the Hopeful Stakes ←

(Ad)



The Hopeful Stakes is a Grade 1 race for two-year old thoroughbreds. The race is open to horses in the Japan Racing Association.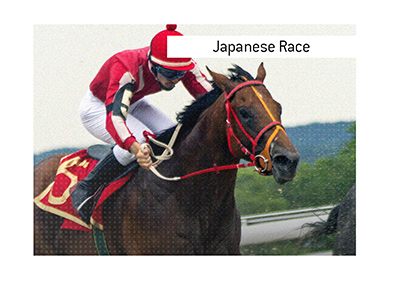 The race, which is held just at the end of the year, is run at Nakayama Racecourse in Funabashi, Chiba, Japan. The turf course is 2,000 meters (1 1/4 mile) and right-handed - as mentioned, the race is open to colts and fillies, aged two years.
This race has been held under all sorts of different names in the past, though has recently been dubbed the Hopeful Stakes. The prize pool is a bit over 150 million Yen, with the winning horse and its team receiving 70 million Yen.
This race will elevated to a Grade 1 level in 2017.
The most recent winner of the race was Saturnalia, who turned in a time of 2:01.6. The horse was ridden by Mirco Demuro, trained by Kazuya Nakatake and owned by Sunday Racing, which has won multiple times at this event.
This is a fairly new event, as it was first held in 1984 under the name of "Radio Tanpa hai Sansai Hinba Stakes".
-
Let's take a look at the odds for this race, courtesy of Bet365:
Source: Bet365
Time Stamp:
December 18th, 2019 9:49 pm EST
Odds Subject to Change
Contrail, 1.90
Wakea, 3.50
Authority, 7.00
Rhinebeck, 8.00
Weltreisende, 8.50
Black Hole, 15.00
Blooming Sky, 34.00
Diamant Minoru, 34.00
Xenoverse, 34.00
Huascaran Tesoro, 51.00
Rugby Boy, 51.00
Dear Theory, 67.00
Galore Creek, 67.00
Hagino Esperanto, 67.00
Panthalassa, 67.00
Kurino Brave, 101.00
Narino Montagne, 201.00
-
Contrail is the favourite to win at the Hopeful Stakes, and for good reason.
Contrail is the pedigree of Deep Impact and Rhodochrosite and is two for two in races so far this season, winning at both the Tokyo Sports Hai Nisai Stakes and the Two-Year-Old Newcomer.
Wakea is really the only other horse that is being given a chance in this race - Wakea has also won the two races that it has entered so far this season (Ivy Stakes, Two-Year-Old Newcomer), though Contrail is still being given the clear edge. Wakea is the pedigree of Heart's Cry and Cherry Collect.
Race Details:
Grade: 1
Open To: 2 Year Olds, Fillies and Colts
Date: December 28th, 2019
Surface: Turf
Length: 2,000 Metres
Country: Japan